Lindsay Lohan -- High Marks from Alcohol Ed
Lindsay Lohan
High Marks
from Alcohol Ed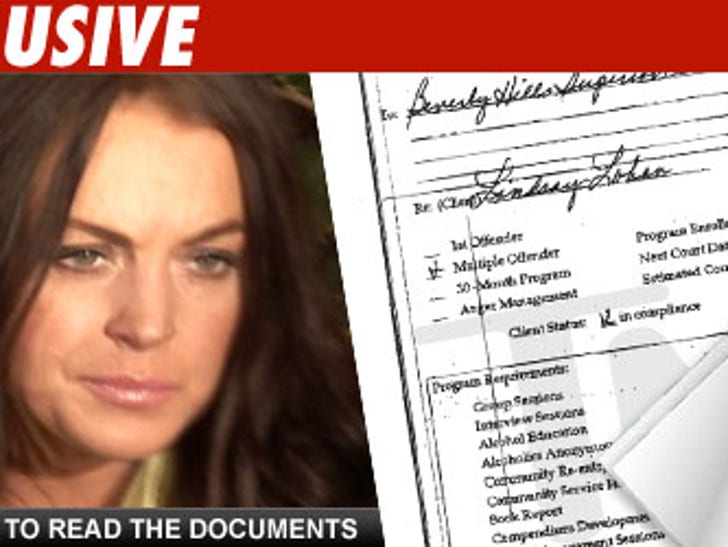 Lindsay Lohan is in compliance with her alcohol ed course -- this according to a letter sent by program officials to the judge in Lindsay's DUI probation case.
According to the letter from Right On Programs -- filed with the court and obtained by TMZ -- Lindsay "attends regularly and consistently." And, program officials say, "Her attitude is positive and receptive to ideas regarding lifestyle changes."
The program wrote the letter, despite the fact that Lindsay has only attended 10 of the required 13 classes. And the program makes no mention of the lifestyle choices Lindsay has made over the last few months that have been captured by countless cameras.
According to the letter, "She has never come [to class] under the influence, been rude or disrespectful."
The letter notes Lindsay "attends regularly and consistently communicates in a timely manner to reschedule if necessary." The program concludes, "At this time, Lindsay is in program compliance."
According to supporting docs, Lindsay had a few weeks where she did not attend, but the program says the lapses were approved, once so she could go to a Haiti fundraiser in NYC and another time so she could go to Europe to promote her clothing line.
The program is not required to notify the judge unless Lindsay misses 21 consecutive days. The judge, however, ordered Lindsay to attend class at least once every 7 days, but apparently that was not communicated to the program.
As TMZ first reported, at Thursday's hearing the judge will be told that Lindsay has -- as of now -- attended only 10 of the 13 classes and she did not attend all of them within the 7 day intervals. Lindsay, however, has a good argument on the 7-day requirement if the program let her slide from time to time. As for not completing the 13 classes -- it's all up to the judge.
Because Lindsay is not in full compliance, the judge has ordered her to attend Thursday's court session.