Lindsay Bailed Out By Member of Britney's Team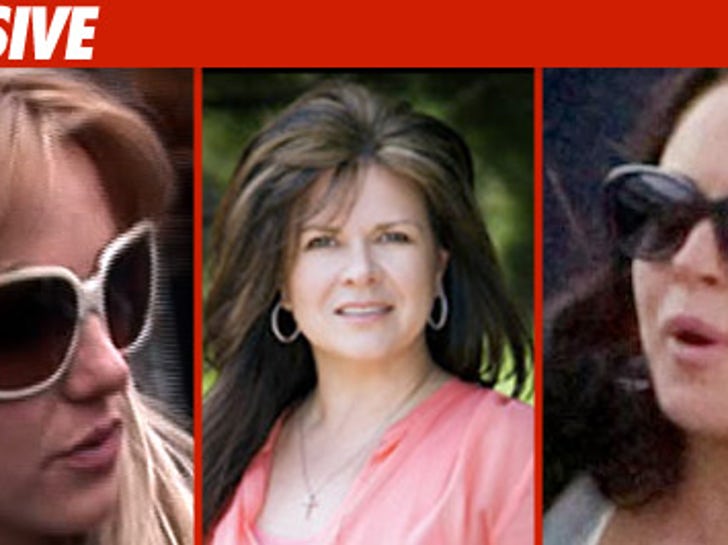 The person who wired Lindsay Lohan's bail money at lightning speed last Thursday also helped Britney Spears get back on track ... and she's considered a behind-the-scenes wheeler dealer who pushes some pretty controversial born-again views.
Lou Taylor -- who has a financial management company in Nashville, Tennessee -- quietly came on board with Lindsay a few months ago.
Taylor is not only considered genius in the money department, she's a huge personality with a moral force that easily rivals her hubby, who's a minister.
Sources say one of the reasons Taylor came on board with Lindsay is because of her fire and brimstone approach to handling her clients. We're told Taylor is not shy about pushing her born again religious views ... something we're told scared the hell out of Britney ... but we're also told Brit got over it when Taylor engineered the financial end of Brit's very successful concert tour.
Taylor reps a bunch of Hollywood types as well as Nashville singers. One person who currently works with Taylor says, "She takes BS from no one. It's like having a mother with an iron fist who just fiercely tries tries to protect her clients."

Another source says Taylor's influence is so strong, it's like having an "interventionist" on her clients' team.

Taylor is the one who ripped Dr. Phil a new one for trying to do a Britney intervention on his television show in the middle of her 5150 hold.
Sources say Taylor has helped Lindsay in the financial chaos department. In the intervention department ... not so much.