Mets Ace Johan Santana Accused of Sexual Battery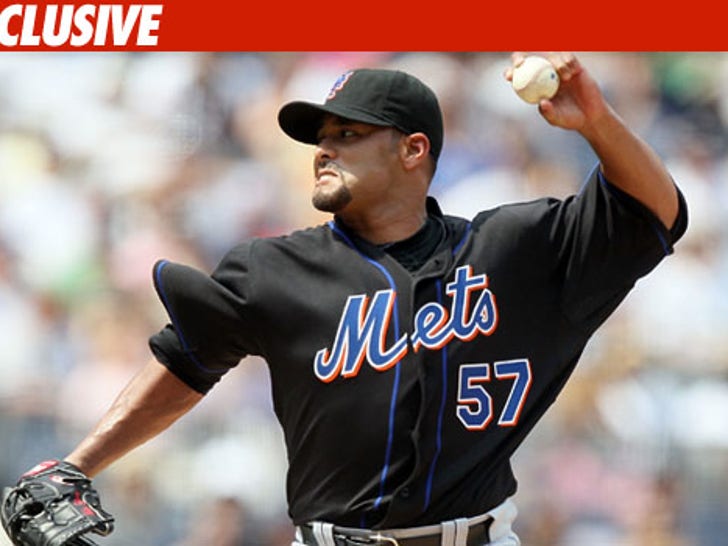 TMZ has learned New York Mets star pitcher Johan Santana was accused in a police report of sexual battery that allegedly went down on a Florida golf course ... but the case went nowhere.
TMZ obtained a copy of the report filed with the Lee County Sheriff's Office on October 28, 2009 -- one day after the alleged attack in Fort Myers. In the document, the accuser (referred to only as Jane Doe) claims she and Santana were walking on the golf course when he "began to kiss her and pull up her top, unclasping her bra."
The report continues: "Johan began to pull at [the accuser's] skirt/skort and attempt [sic] to place his hands into her underwear." According to the document the alleged victim "told Johan no multiple times but Johan persisted."
The report gets more graphic, when the accuser claims Santana penetrated her, grabbed and bruised her calf, and "ejaculated on her upper thigh."
The accuser claims she "cleaned her thigh with her underwear" -- and then returned to a tennis court with Santana, and actually watched him play tennis with someone else.
According to the report, a detective collected all of the accuser's clothing as evidence.
A spokesperson from the Sheriff's Office tells TMZ Sheriff's detectives met several times with the prosecutor from the State's Attorney's Office to review the case. Law enforcement sources say DNA evidence did prove there was intercourse, but, according to a Sheriff's document, the prosecutor concluded, "There was not enough evidence to prove lack of consent, the alleged victim's statement is not consistent with other witnesses." The case was closed out on December 8, 2009.
We contacted Santana's rep, who said, "Johan denied the charges and was never charged with anything. As far as the law enforcement side of this goes, the case is closed."
Johan spoke in the Mets' locker room before today's

game -- check out his statement.