Drug, Sex, Homophobia Allegations on 'House' Set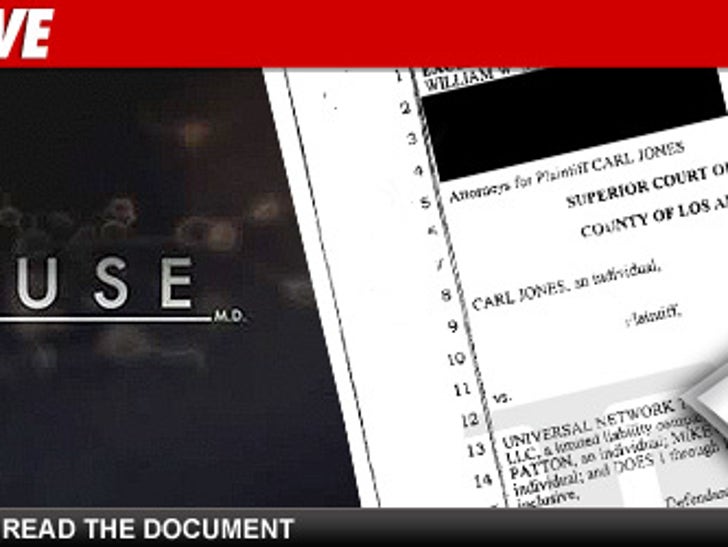 Cocaine ... guns ... sex ... and knife play -- all part of life behind the scenes on the show "House M.D." ... this according to a new lawsuit filed by a bitter ex-employee.
In a lawsuit, filed in L.A. County Superior Court, a former assistant prop master named Carl Jones claims he was fired from the show in March ... because he didn't go along with the "degenerate conduct" of his superiors.
In the suit, Jones claims he was harassed by two of his supervisors for refusing to engage in "visits to strip bars, participation in getting drunk, stoned or intoxicated on cocaine, to participate in sexual conduct at the trailer, and other dangerous conduct."
Jones claims the supervisors would often refer to him -- and other employees -- as "fags, pussies, bitches, slaves, dummies, retards and idiots."
Jones also claims one of his supervisors brought a gun to the set "several times" ... but it gets even crazier.

In the docs, Jones claims he watched his supervisors get drunk on tequila and engage in "throwing a knife at a target on set."
Jones claims he tried to report the alleged misconduct to one of the co-executive producers on the show -- but his cries for help were ignored ... and claims he was ultimately "blackballed" from future work on the show.
Jones claims he's become severely depressed and somehow suffered a physical injury as a result of the alleged incidents.
He's suing for more than $1,000,000 in damages. Universal -- which produces 'House M.D.' -- had no comment.
UPDATE: A rep for NBC Universal tells TMZ, "The lawsuit is without merit."
The rep adds, "It is NBCU's long-standing policy to provide a working environment free from discrimination or harassment of any kind. We also strictly prohibit retaliation or reprisal against anyone who reports or opposes discrimination or harassment."