Jennifer Aniston, Cher -- Alleged Victims in Credit Card Scheme
Aniston, Cher
Alleged Victims
In Credit Card Scheme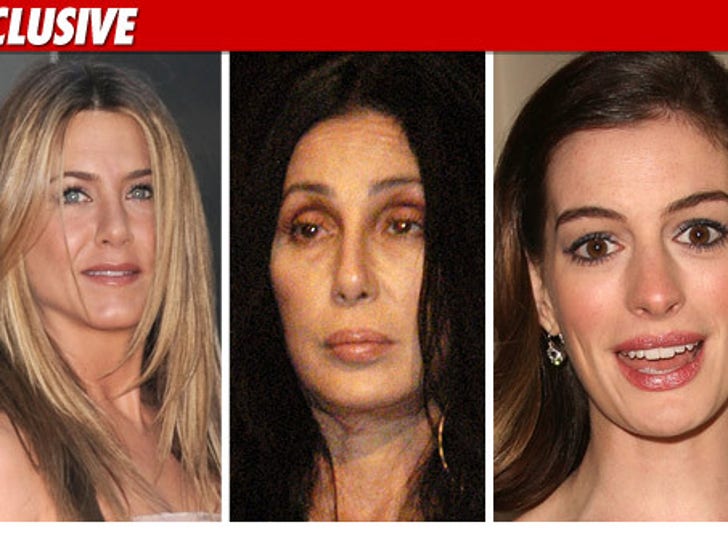 TMZ has learned ... the U.S. Secret Service just closed in on a woman accused of operating a serious credit card scheme ... and many of the alleged victims are major Hollywood mega-stars.
According to an affidavit filed in United States District Court, a witness claims Jennifer Aniston, Cher, Liv Tyler, Melanie Griffith, Anne Hathaway and Scott Speedman were all violated -- or at least their credit cards were -- by a woman who ran a swanky salon in Beverly Hills called the Chez Gabriela Studio.
According to court documents, Maria Gabriella Perez is accused of ripping off the credit card information from her ultra-wealthy clients ... and "fraudulently [charging] approximately $280,000 worth of charges in a one year period."
According to the docs -- Perez swindled $214,000 from Liv Tyler alone.
Perez was arrested on federal fraud charges -- and is due to appear in court in L.A. later today.
UPDATE: Perez had listed some flattering quotes from her famous clients on her website -- including one from Cher that reads, "Gabriela is my favorite ass kicking facialist."
Perez also posted several personally autographed photos of her celeb clients ... including one from Jennifer Aniston that reads, "Dearest Gabby, Thank you for always being so good to me!"
UPDATE #2: According to the documents, Melanie Griffith has already stated that she is willing to "cooperate with an investigation and testify if needed."
UPDATE #3: Cher's rep tells us the icon was not a victim in the alleged scheme -- and does not know why she was named in the affidavit.