Brooke Claims Charlie Sheen Sent Anti-Semitic Text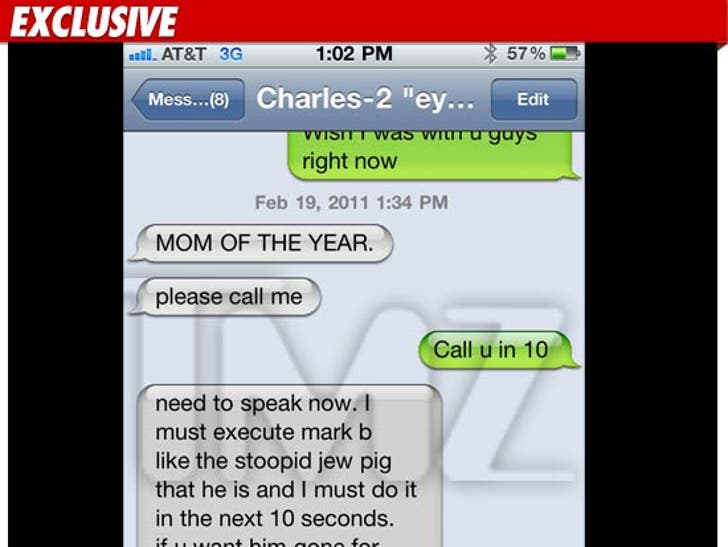 Brooke Mueller claims Charlie Sheen recently sent her a scathing, anti-Semitic text about his manager, saying "I must execute mark b [Mark Burg] like the stoopid jew pig that he is."
Sources say Charlie sent the text last week, after firing Mark ... but before rehiring him.
The text was quoted in Brooke's declaration in support of her request for a restraining order.
Charlie tells TMZ he did not send the text, saying, "I busted Brooke a year ago sending text messages from my phone to family members to cause discord. Both Natalie and Rachel (aka, the goddesses) will testify they observed Brooke with my phone on that day." Charlie adds, "I have to believe the text about Mark Burg is a repeat performance."
Mark Burg tells TMZ, "Charlie Sheen's ex-publicist, Stan Rosenfield, is Jewish. Charlie Sheen's entertainment attorney, Jake Bloom, is Jewish. Charlie Sheen's litigation attorney, Marty Singer, is Jewish. Charlie Sheen's divorce attorney, Mark Gross, is Jewish. I've known him for 13 years. I don't believe that he actually sent that text."
And Burg adds, "For the record, since Brooke Mueller is Jewish that would make Charlie Sheen's two sons also Jewish."