Sheen Allegedly Wanted Associates Killed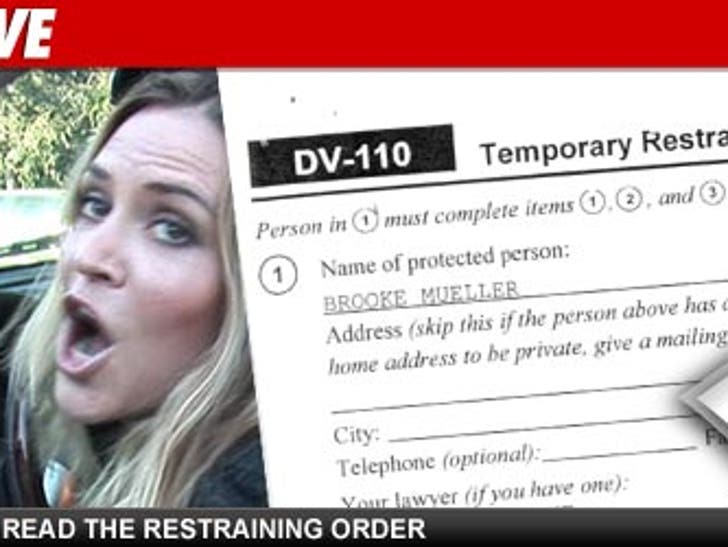 TMZ has obtained the restraining order Brooke Mueller got against Charlie Sheen ... which led to his children being removed last night -- among the most incendiary allegations ... that he wanted some of his associates killed.
Brooke also says Charlie "spit on my feet. He also punched me in the arm."
According to the docs, Charlie allegedly told Brooke he wanted her to give him back $20,000 a month in child support payments -- "untraceable cash to knock off a few people because the people I hate violently are going to get severely punished."
As for Charlie threatening to cut Brooke's head off and put it in a box -- something we reported last night -- Charlie allegedly said, "If you are having this conversation taped, then consider it done.
Brooke also claims -- referring to the Aspen blowout in December, 2009, which led to the domestic violence case against Charlie -- "I should have killed you when I had the chance!"
Brooke also claims on the way to the Bahamas, Charlie randomly told people on the plane "that he hated his ex-wife, Denise Richards, violently and he was going to have her hair shaved off."
Brooke says while they were in the Bahamas last week, Charlie blurted out, "I'm untouchable! I'm Charlie Sheen! I'm more famous than Obama!"
Brooke also references Charlie's interview with TMZ last week, claiming he's made "bizarre, disturbing and violent statements to the media" and "I believe his rage is the result of an intense mental issue."