Hulk Hogan -- We Had Finally Started to Talk Again ...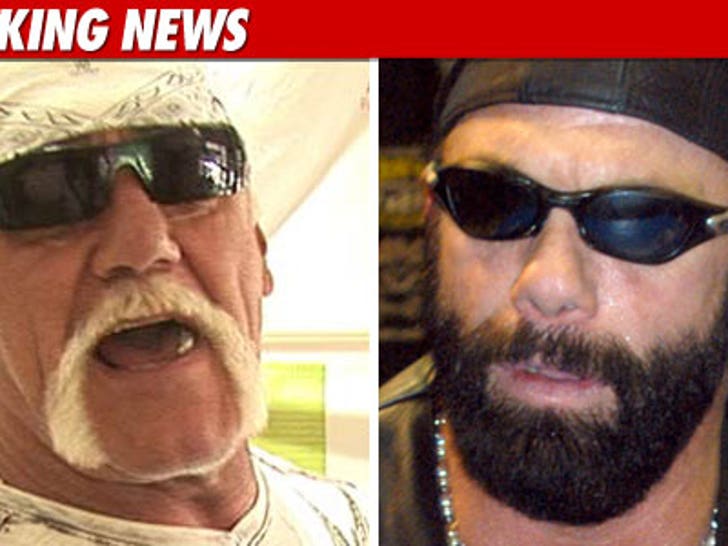 Hulk Hogan says he's "completely devastated" by the death of Randy "Macho Man" Savage -- saying they just rekindled their friendship after not talking to each other for nearly ten years.
Hulk just went to his Twitter page and wrote, "I'm completely devastated, after over 10 years of not talking with Randy, we've finally started to talk and communicate."
He added, "He had so much life in his eyes & in his spirit, I just pray that he's happy and in a better place and we miss him."
"We miss him a lot. I feel horrible about the ten years of having no communication. This was a tough one."
And Hulk wasn't the only wrestling legend who took to Twitter ...

@R_Roddy_Piper (Rowdy Roddy Piper)
I'm going to drive. Wrestlers think best when they drive. All my love to Lanny and his daddy Angelo! Wrestled them both. My hearts hurts 4 U
@OfficialHTM (Honky Tonk Man)
Macho Man was one of the all time greats and will be greatly missed... A very sad day for wrestling
@ShawnMichaels_ (Shawn Michaels)
We've lost one of the greats!! Our prayers go out to the family & friends of Randy Savage.
@howardfinkel (Howard Finkel)
I am profoundly saddened by the passing of one of the all-time greats, Macho Man Randy Savage. My condolences go out to the Poffo family.
@BillDeMott (Bill De Mott-Tough Enough trainer)
When I got my start in WCW it was Randy that gave me the rub....my prayers and thoughts to the Poffo Family
@The305MVP (MVP)
"The cream always rises to the top! Ohhh Yeeeeah!" REST IN PEACE Macho Man. Thank you for everything! Peace & thoughts to the Poffo family
@TheLethalJay (Jay Lethal)
R.I.P. Macho Man Randy Savage. You were amazing... Oohh yea!!!
@GenMeMax (Max Buck - TNA wrestler)
One of the main reasons I got into pro-wrestling was to be like Macho Man - a major part of my childhood. RIP sir.
@wweURNiverse (Paul Bearer Pringle Paul Bearer)
RIP - " MACHO MAN " RANDY SAVAGE. :-(