Hugh Hefner Wedding -- Crystal Harris Calls It OFF!!!
Hugh Hefner & Crystal Harris
The Wedding is OFF!!!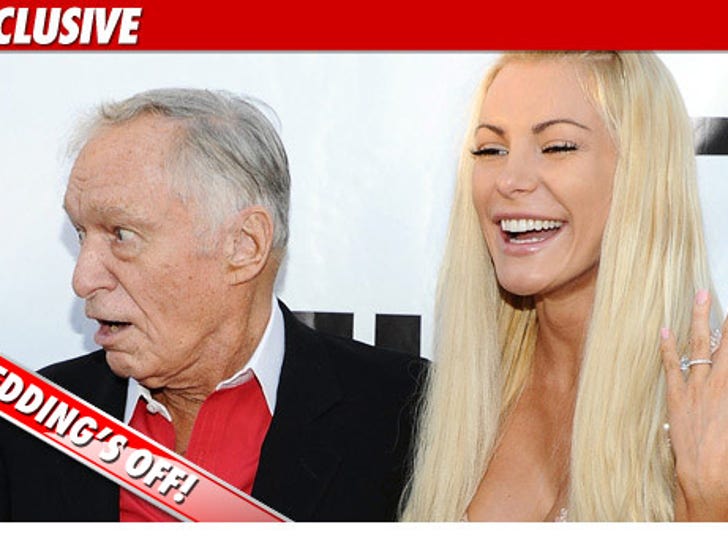 Hugh Hefner's fiancee Crystal Harris is a real-life runaway bride -- 5 days before walking down the aisle ... she bailed out of the Playboy Mansion and multiple sources say the wedding is off!
Our sources -- who are all at the mansion -- say Crystal, 25, and Hef, 85, had a nasty argument this weekend on the phone. When the dust settled Crystal decided to 86 the nuptials and quickly moved her stuff out.
UPDATE: Hef just tweeted -- "The wedding is off."
Alisha
Pretty sad that it took her this long to come to her senses. What does he have to offer you but money? Pretty sad if you'd be willing to give up happiness to have a big bank account. I'm sure there will still be a huge party though.
RogerWithTigerStripes
She probably didn't get enough money out of the deal and realized marrying her grandpa wasn't worth it. Hef, you should've stuck with Holly, at least she seemed genuine.
Keirie420
Most expected headline of the year
Betty
He should thank the Lord this happened before he made one of the biggest financial mistakes of his life!
JimBeam
What kind of a world do we live in where 2 young kids can't make their relationship work and blossom into a wonderful, youthful marriage with many, many more years to come . . . oh, wait . . .
batterup
Now I have this prenup here for you to... honey? ..honey? Crap.