Casey Anthony Juror: Ask Me Anything ... For a Price
Casey Anthony Juror:
Ask Me Anything ... For a Price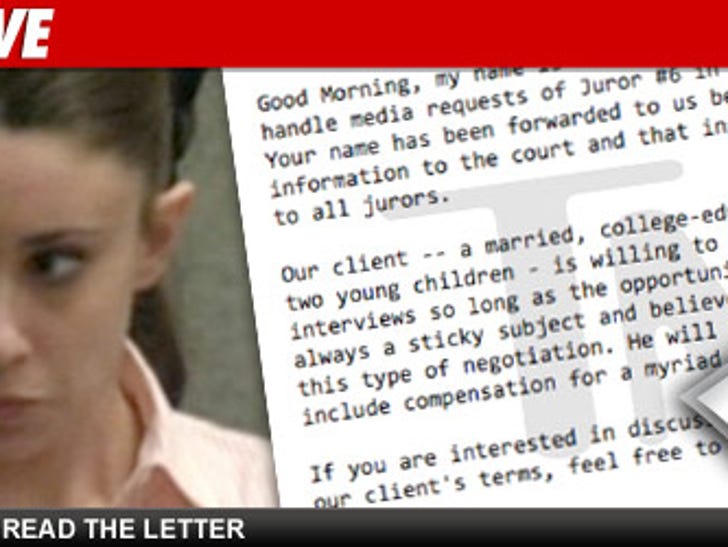 One of the jurors in the Casey Anthony trial has decided to go public with his side of the story -- but TMZ has learned, he's not talkin' ... unless the price is right ... and 5-figure offers are already pouring in.
A publicist for the unidentified juror is sending a letter to media outlets, claiming, "Our client -- a married, college-educated, 33-year-old white male with two young children -- is willing to consider granting one or more media interviews so long as the opportunities are paid."
We're told the juror has already received multiple offers from big news operations, including at least one major network. Sources tell us ... the high offers are in the "mid 5-figures."
Paid interviews are a hazy moral territory for obvious reasons -- and the publicist, Rick French, admits, paying for sit-downs is "always a sticky subject and believe me, I understand the delicacy of this type of negotiation."
But French insists ... sticky or not, his client ain't budging -- "He will not entertain any offers that don't include compensation for a myriad of reasons."
Jim in Cali
I don't think this is bad at all. The shows are making money off the ratings of the show so why should a juror give a free interview. I'd do the same thing in his shoes.
Randy
How sick is this....just another blood sucking greedy s***bag looking to cash in on the death of that poor baby. Sickens me....
Jen
I sort of understand, since they probably incurred hardships sitting on a sequestered jury for a lengthy amount of time. But it just doesn't seem right.
chicken227
welcome to the wonderful land of America...thats how we roll here...as long as you can make a buck.. it doesn't matter if its honest or on the head of a dead baby...
The Mistress
oh come on people, many of you would do it too!! and many people want to know know why they acquitted the woman. Everyone in the media is making money out of this, let the guy get some cash.
John
It doesn't surprise me one single bit. Disgusting creature!