Rachel Uchitel Returns $10 Million Hush Money to Tiger Woods, Threatens Gloria Allred
Rachel Returns Hush Money
Threatens Gloria Allred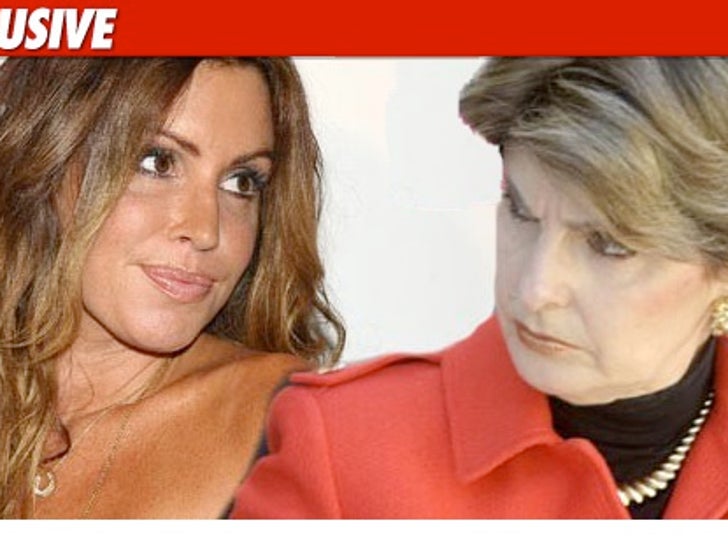 TMZ has learned ... Rachel Uchitel has given Tiger Woods back most of the settlement money he paid her ... and now Rachel is preparing to sue Gloria Allred, the lawyer who struck the deal, allegedly because Gloria sold her out for money.
As TMZ reported, Gloria negotiated a $10 million settlement for Rachel ... just hours before Rachel was going to hold a tell-all news conference about Tiger Woods. The settlement included a confidentiality agreement, which prohibited Rachel from talking about Tiger.
We've learned the agreement stated ... if Rachel violated the confidentiality clause ... she would not only have to return the money she received but Tiger could sue her for damages as well.
Sources tell TMZ ... several months ago Tiger's lawyer, Jay Lavely, contacted Gloria and said they were going after Rachel because they believed she violated the confidentiality agreement by allegedly speaking with TMZ and going on "Celebrity Rehab" to treat her "addiction to love" -- though she never talked specifically about Tiger on the show.
We're told Rachel felt strongly she had not violated the agreement, but Gloria allegedly convinced her she would lose if push came to shove, so Gloria struck a deal with Lavely -- that Rachel would return the lion's share of the settlement money.
But our sources say ... what has Rachel fuming is that Gloria allegedly made a deal with Jay Lavely -- that Gloria would still get all of her attorney's fees. Rachel believes Gloria sold her out ... allegedly making a deal with Tiger's lawyer to strong-arm Rachel into giving the money back and in return Gloria would get her fee -- a fee Gloria would not have received if Rachel went to arbitration and lost.
We're told Rachel went along with the deal, but as time went on she felt she had gotten screwed, and then hired a malpractice lawyer who has made a demand on Gloria to either pay Rachel what she gave back or get sued.
Sources tell TMZ ... Rachel's lawyer has given Gloria a deadline, and if Gloria doesn't ante up ... a legal malpractice lawsuit will be filed.
We contacted Gloria, who said, "No comment." Ditto Rachel, who was also mum.
UPDATE: TMZ asked Gloria if her law partner, Nate Goldberg, was the lawyer who negotiated Rachel's big give-back to Tiger. This time she said she couldn't answer because of "attorney-client privilege."
UPDATE: Gloria just told TMZ, "Our law firm no longer represents Ms. Uchitel and we have no comment on this story at this time. However, we are confident that we have always acted appropriately and in her best interests."
UPDATE: Gloria just gave TMZ another statement: "I was not involved in any way in the allegations set forth in the TMZ story which appears today and which references me. I have not had a conversation with or communicated with Jay Lavely about any client in more than a year. I am reserving all of my legal rights and remedies against anyone who defames me."