Beyonce Sings National Anthem LIVE -- Suck It, Haters!!!!!!!!!!!!!
Beyonce
Sings National Anthem LIVE
Suck It, Haters!!!!!!!!!!!!!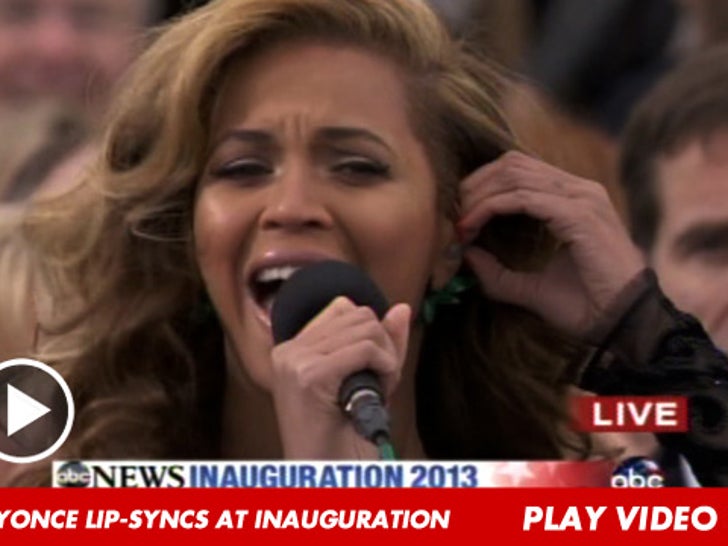 Beyonce was on a mission today to PROVE she can sing the national anthem like a pro – belting out a LIVE version of "The Star-Spangled Banner" moments ago on TV … without the help of a backing track ... and she KILLED IT.
Beyonce was at the news conference for her upcoming Super Bowl halftime show when she launched into the impromptu performance -- and when she finished the song, she simply said, "Any questions?"
During the conference, Bey was asked about the lip-syncing situation at the Presidential Inauguration last week, and she admitted she used a backing track -- claiming, "I am a perfectionist ... I did not have time to rehearse with the orchestra [at the Inauguration]. It was a live television show and a very important moment for me."
Beyonce added, "Due to the weather, due to the delay, due to no proper sound check, I did not feel comfortable taking the risk … so I decided to sing along with my pre-recorded track, which is very common in the music industry. And I'm very proud of my performance."
A reporter then asked Beyonce if she planned to sing live at the Super Bowl, and she replied vaguely, "I always sing live" ... but she didn't say whether she planned to use a backing track as well.
When asked about a possible Destiny's Child reunion at this Sunday's halftime show – Beyonce hedged on the answer.
So let this settle it once and for all ... girl can sing.