Justin Bieber -- Murderer's Chilling Phone Call Details Castration Plot
Justin Bieber
Murderer's Chilling Phone Call Details Castration Plot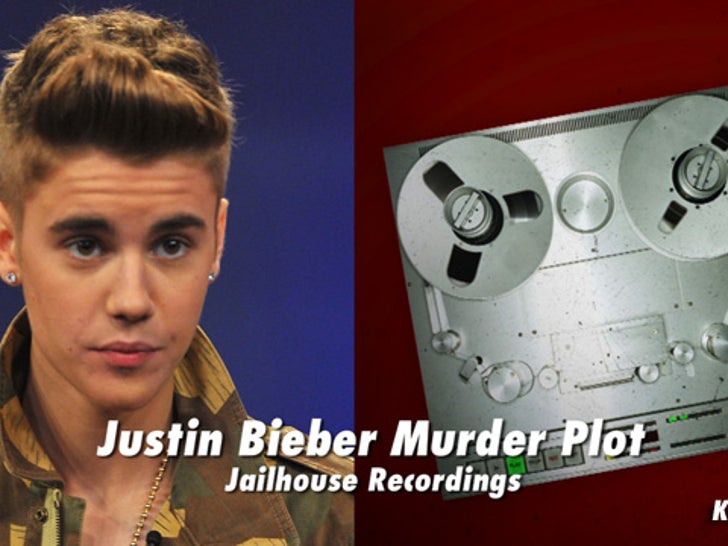 A convicted murderer's terrifying phone call to a hit man -- in which he describes a plot to murder and castrate Justin Bieber and his bodyguard -- has been released.
The phone call -- obtained by KOAT 7 News in Albuquerque, NM -- was placed from a Las Cruces prison last November by Dana Martin, who's currently serving two life sentences for raping and killing a 15-year-old girl.
Martin -- reportedly obsessed with Justin Bieber -- is the first voice on the tape. The person he's calling is Tanner Ruane, the man who's accused of conspiring to carry out the Bieber castration since Martin was behind bars.
Ruane is the nephew of a former Las Cruces inmate named Mark Staake, whom Martin had also allegedly recruited to help carry out the murder following Staake's release last fall.
In the clips released by KOAT, Martin tells Ruane ... "[Mark's] going to kill the pit bulls and you're going to castrate them."
According to police, "pit bulls" was the code word for Bieber and his bodyguard.
In the call, Ruane mentions the "hedge clippers" he was planning to use to carry out the deed.
Martin also describes how to perform the murders using his signature paisley tie -- "Tie it really really tight. Knot it in the front once, really tight, put it in a knot. That cuts off the oxygen, and then tie it in the back again, really tight. That seals the deal."
As we reported, the murders were supposed to go down in New York City soon after this telephone call took place ... while Bieber was in town performing at MSG. Ruane and Staake were subsequently intercepted by police before anything happened.