Newark Mayor Cory Booker -- Flirty Tweets with Stripper Revealed
Newark Mayor Cory Booker
Flirty Tweets
With Stripper Revealed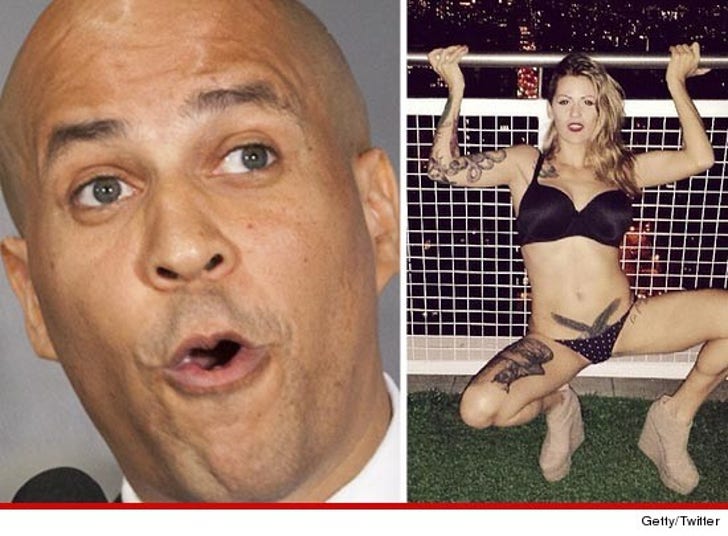 Breaking News
Newark Mayor Cory Booker has a lot in common with T-Pain (and maybe Anthony Weiner) ... cause the U.S. Senate hopeful is really tight with a stripper who wants to be his first lady.
Booker's carried on a Twitter relationship with a Portland, OR stripper named Lynsie Lee, and once DM'd her: "The East Coast loves you, and by the East Coast, I mean me."
For her part, Lee has tweeted to Booker: "if you're POTUS I call dibs on First Lady."
Booker, if you don't know, has big celeb backers for his Senate campaign -- including Matt Damon, Ben Affleck, and Jerry Weintraub -- and has been mentioned as a possible Presidential candidate down the road.
The tweets between Booker, who is a bachelor, and Lee were first revealed by Buzzfeed ... and while they hardly rise to Weiner levels -- they've raised eyebrows because Booker is a rising star in the Democratic party.
It also probably doesn't help that Lee posts lots of topless pics of herself.
Lee told Buzzfeed the "East Coast love" message was just Booker replying to her saying the West Coast loved him.
Booker's campaign manager is also dismissing any controversy, saying ..."I think it's pretty well known that the Mayor talks with people from all walks of life on Twitter."
FUN FACT: Lee strips at Casa Diablo ... which touts itself as the world's first vegan strip club. Ahh, healthy living.