Shaquille O'Neal -- Even My Fish Are Diesel ... Shows Off 'Super' Aquarium
Shaquille O'Neal
Even My Fish Are Diesel Now!!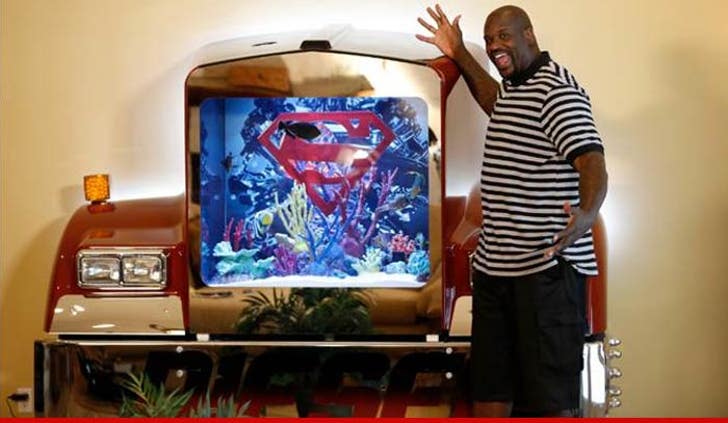 Exclusive Details
We know Shaquille O'Neal rolls big, and now his pet fish do too -- in a massive $50,000 aquarium he had custom built into a freakin' big rig truck! Yeah, tropical fish can be badass.
Shaq posted a pic of his giant self yesterday next to his new baby -- a 3,000 pound tank complete with the Superman logo (a Shaq fave). It's framed by the cab of a tractor trailer ... which would dwarf any other fish tank owner.
The hosts of the Animal Planet show "Tanked" -- Wayde King and Brett Raymer -- designed and built the saltwater pad which houses dozens of exotic species like Miniature Groupers, Clown Triggers, Mappa Puffers, and even Dragon Eels!
Wayde and Brett told us it was one of the most unique projects they've ever worked on -- especially because hey had to load in the Dragon Eels ... which they called "a bit aggressive."
Feeding time is gonna be interesting.