Darren Sharper -- 9 Years in Prison total for ALL Rapes
Darren Sharper
9 Years in Prison
For ALL Rapes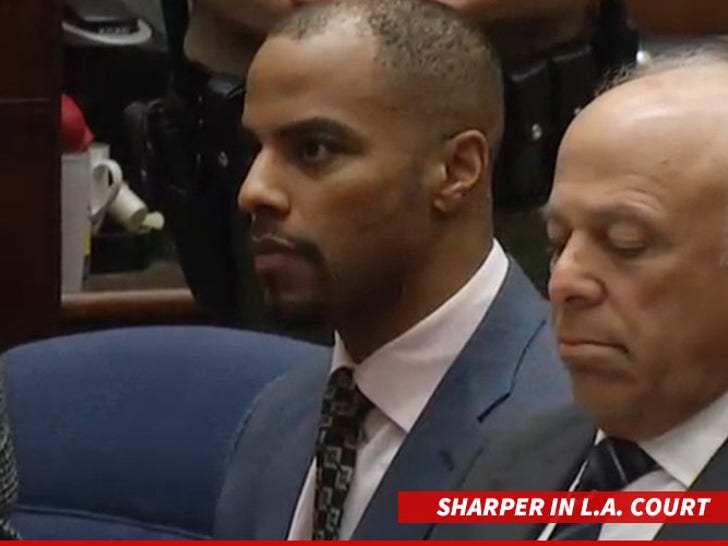 Darren Sharper just pled no contest to 2 rapes and 4 druggings in California, and he'll only have to serve 9 years ... and now we know Sharper will be a free man again in March 2024.
L.A. County Superior Court Judge Michael Pastor sentenced Sharper to 20 years in prison, but he'll only have to serve half that. He gets credit for 2 years because he's been behind bars for a solid year already, so the actual remaining time behind bars is 9 years.
Earlier Monday Sharper pled guilty to sexual assault in Arizona and was sentenced to 9 years, which runs concurrently with California.
TMZ Sports broke the story Sharper will get a maximum of 8 years in Nevada under a deal where he pleads guilty to attempted sexual assault on 2 girls. The Nevada sentence is also concurrent with Arizona and California.
The only missing piece of the puzzle is Louisiana, where Sharper will plead guilty Tuesday to 3 rapes. That deal will be announced tomorrow, but Judge Pastor said in court the total sentence for all cases will be 9 years. That means the Louisiana sentence will also run concurrently.
Short story ... Sharper's legal team seems to have worked a miracle. He could have gotten 2 life sentences in Nevada alone. On top of that, people convicted of rape typically do 85% or more of their sentence, and he's doing only 50%.
Judge Pastor said Sharper will do his 9 years in a federal facility.
Sharper will be placed on parole for 3 years after he's released, and will then be on probation for the rest of his life.
He'll also be required to register as a sex offender.