Snoop Dogg -- Colt 45 Doesn't Work Every Time! Someone Owes Me Money
Snoop Dogg
Colt 45 Doesn't Work Every Time!
Someone Owes Me Money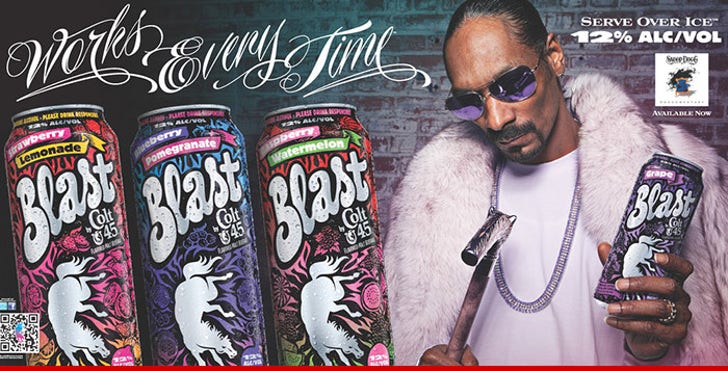 Breaking News
Forget gin and juice ... Snoop Dogg has a huge deal to promote Colt 45 now, but says someone forgot to pay him, so he's suing their asses.
Snoop signed an endorsement deal in 2011 to promote Colt 45's fruit-flavored malt beverage, Blast. In a new lawsuit filed Monday, Snoop claims part of the deal was he would get 10% of the sale price if Pabst Brewing Co. ever sold off Colt 45.
Cut to 2014 ... when Oasis beverages swallowed up Pabst, and the C45 brand in a $700 million deal.
In the suit, Snoop says he never got his cut, so he's demanding his 10% share of the Colt 45 portion of that deal.
A rep for Pabst tells TMZ, "We have not been contacted by Snoop Dogg or his representatives about this issue. We are investigating the matter and would be happy to talk to Snoop or his representatives to try to get to the bottom of this."