Johnny Manziel: Passenger In Alleged Hit & Run ... Picked Up By Josh Gordon
Johnny Manziel
Passenger In Alleged Hit & Run
... Picked Up By Josh Gordon
Johnny Manziel was a passenger in a car that allegedly hit a light pole and fled the scene in Hollywood this weekend ... and the person who picked him up after the crash was Josh Gordon.
TMZ Sports has learned ... Manziel was interviewed by LAPD about a crash that occurred on the Sunset Strip around 10:45 PM on Saturday night.
We're told ... cops believe the driver of the car was Manziel's good friend Ryan Silverstein -- aka OVO Ryan from Drake's OVO crew.
Law enforcement sources tell us ... cops believe Silverstein and Manziel left the scene on foot after the crash -- and were picked up by Cleveland Browns WR Gordon.
After cops arrived to the crash scene, we're told Silverstein and Manziel came BACK to the area ... and witnesses identified Ryan as the driver because of his recognizable beard.
Our sources tell us Manziel admitted to being a passenger in the car at the time of the crash -- but he's NOT accused of any criminal wrongdoing. Neither is Gordon for that matter.
As for OVO Ryan, we're told cops are still investigating him for a possible misdemeanor hit-and-run.
Attempts to contact Ryan and Manziel were unsuccessful.
BTW, earlier that night, we spotted Manziel and OVO Ryan outside of The Nice Guy ... where Johnny told us he's living with Von Miller and not doing anything stupid.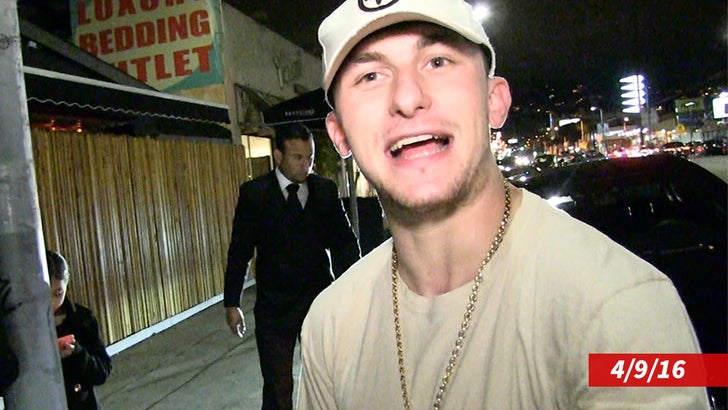 TMZSports.com