Floyd Mayweather: Backs Break Dancing Family ... Here's $10K, Bust a Move!
Floyd Mayweather
Backs Break Dancing Family
... Here's $10k, Bust a Move!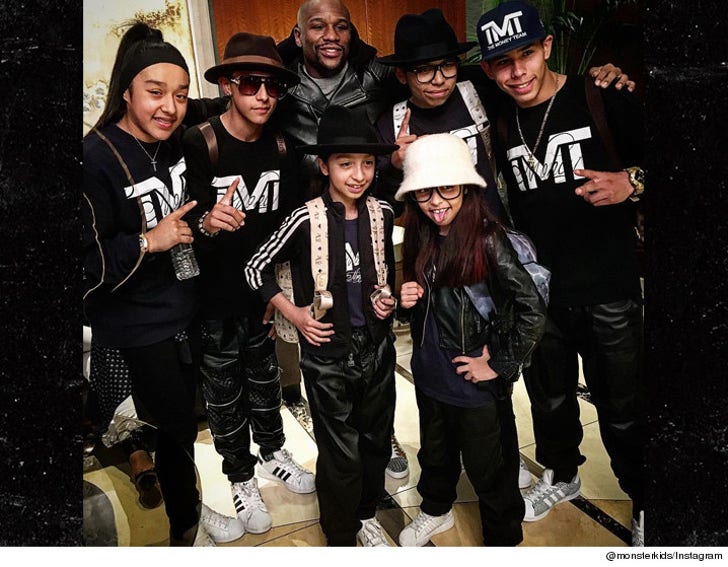 EXCLUSIVE
Floyd Mayweather just came up HUGE for a crazy talented family of break dancers in desperate need of cash -- shelling out $10,000 to help them make it big, TMZ Sports has learned.
The dance group is called "The Finest Family" -- comprised of 6 adorable siblings from Chicago ... led by their dad, Henry.
They're incredible dancers -- but they've struggled financially for years. Henry says the family spent 6 months living out of their van in Chicago.
That was before Floyd came into the picture roughly 4 years ago ... saw them dance, became an instant fan and vowed to be a mentor for life. They've since been featured on shows like "Steve Harvey."
But earlier this month, with the family in serious need of cash (they wash cars to make ends meet), Mayweather contacted the crew and flew them out to Vegas to check in.
Get this ... during the trip, Mayweather pulled out $10,000 IN CASH and gave it to the family ... telling them, "Whatever you need, let me know."
"He's been a blessing," Henry said of Floyd ... "He's amazing."
The better news ... we're told "The Finest Family" recently got an audition with "America's Got Talent" and Henry says it's going well.