Adam Searl Off the Hook In Rape Case
UCLA Football Player
Off the Hook In Rape Case
... Can't Prove Accuser Was Drunk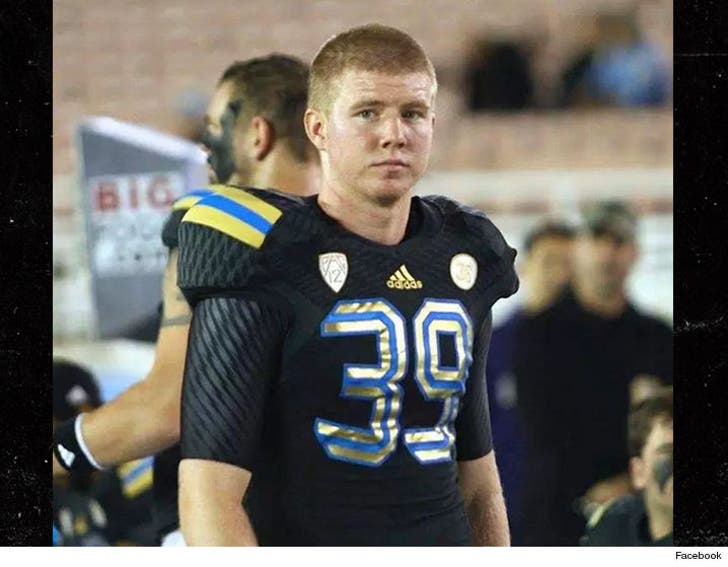 EXCLUSIVE
UCLA kicker Adam Searl will NOT be charged for allegedly sexually assaulting 2 women -- after investigators say there are too many holes in their stories.
As we previously reported, Searl was arrested after a woman claimed he went to her apartment in Oct. 2014 and raped her while she was blackout drunk.
After Searl was arrested in Oct. 2015, a second woman came to police and said Searl sexually assaulted her with his fingers during an incident in Feb. 2014.
Accuser #1 claimed she met Searl while drunkenly leaving a party and they went back to her place. She claimed she was so wasted, she blacked out but remembers Searl having sex with her 3 times and found 3 used condoms in her place the next morning.
She claims she tried to resist but kept blacking out. She went to police hours after the incident.
Cops say the DNA in the condoms matched Searl.
But investigators say they spoke with witnesses and ran toxicology and drug tests on the accuser -- and didn't find evidence to prove she was blackout hammered at the time of the incident.
Cops also say the fact she led him to her apartment cuts against her argument that he raped her.
Eventually, the L.A. County District Attorney decided there was not enough evidence to convict Searl, so the case was dropped.
As for accuser #2, officials spoke with witnesses and say there just wasn't enough there to prove he committed a crime. Plus, the fact she waited 1 year and 8 months made it a weaker case.
Her case was also rejected.