Woman Claims Chris Brown Threatened Her With a Gun
Chris Brown
Woman Claims He Threatened Me with a Gun
(UPDATE)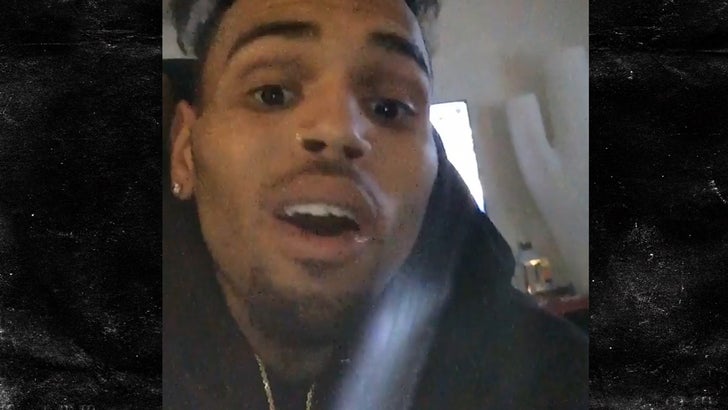 Instagram
9:40 AM PT -- Police say they are still trying to make contact with Chris.
9:20 AM PT -- Chris is finally awake and posting videos. He's pissed about the police presence at his house and feels he's being harassed. He even dropped a "F*** tha police!"
The cops are still outside.
8:45 AM PT -- We've learned the SWAT team is on its way to Chris' home and the LAPD is in the process of obtaining a search warrant. We're told cops want to see if a gun matching the description from the woman is in the house. As of now, Chris has not left his residence.
7:55 AM PT -- TMZ has learned Chris was in the house with several friends, including Ray J. They were talking and at one point Ray was getting a tattoo when some "uninvited guests" appeared inside the house and were asked to leave.
At that point, the story gets murky. The guests included a man who was invited, and two women who were not -- one of the women who'd been asked to leave is the one who made the police report, claiming Brown pulled the gun on her. Someone inside the house insists Chris was asleep the whole time.
At some point Ray J left the house and when he got to the base of the driveway, police handcuffed him and seized his BMW. They checked his ID, uncuffed him and let him go, but kept his car as evidence. He Ubered home.
At the time of this post, Chris is still in the house. He never left. Police are knocking on the door, but no one inside is responding.
We don't know what police will do if he tries to leave.
Chris Brown is a suspect in a criminal assault investigation after a woman called 911 and told cops ... he threatened her with a gun ... TMZ has learned.
The alleged incident went down early Tuesday morning in L.A. We're told Chris and the woman were in a home when she claims they argued and he pulled the gun.
The woman called 911 and police responded and took a report.
We're told the case is under investigation and Chris is the sole suspect.