Allen Iverson Didn't Forget Hall of Fame Trophy
Allen Iverson
Didn't Forget Hall of Fame Trophy
... Left It On Purpose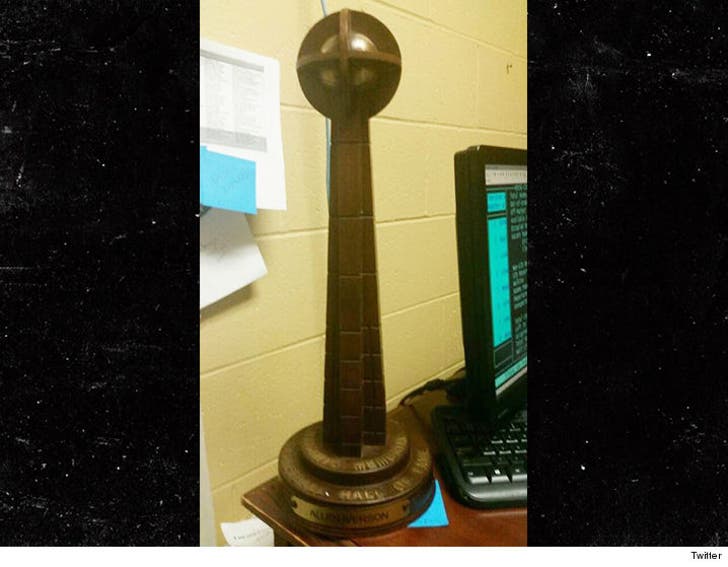 EXCLUSIVE
Yes, Allen Iverson's brand new Hall of Fame trophy is still at his hotel in Springfield, MA ... but it's not because he forgot to bring it home -- he left it on purpose, so says a rep for the H.O.F.
The pic of Iverson's trophy -- posted by The Toucher and Rich Show -- blew up on Reddit this morning ... with people clowning A.I. for being so absent-minded, he couldn't even remember to pack up the hardware he JUST got this weekend.
But a rep for the Basketball Hall of Famer says it's not how it appears -- Iverson intentionally left the trophy at the Sheraton Hotel so it could be safely shipped to his home.
"About half of the players in the past 12 years have done this," says Fran Judkins, Senior Director of Professional Relations.
"[Inductees] leave their trophies at the hotel so they don't have to worry about taking them on a plane or traveling with the extra luggage."
"The hotel staff knows about this, they call me and let me know when I can pick up the trophies to ship to their houses."
"This is a very common thing to do. I also have another trophy that was left at the hotel."
"No, Allen didn't forget his trophy. That's not the case."