Joe McKnight's USC Teammates Mourn Loss
Joe McKnight
USC Teammates Mourn Loss
'He'll Definitely Be Missed'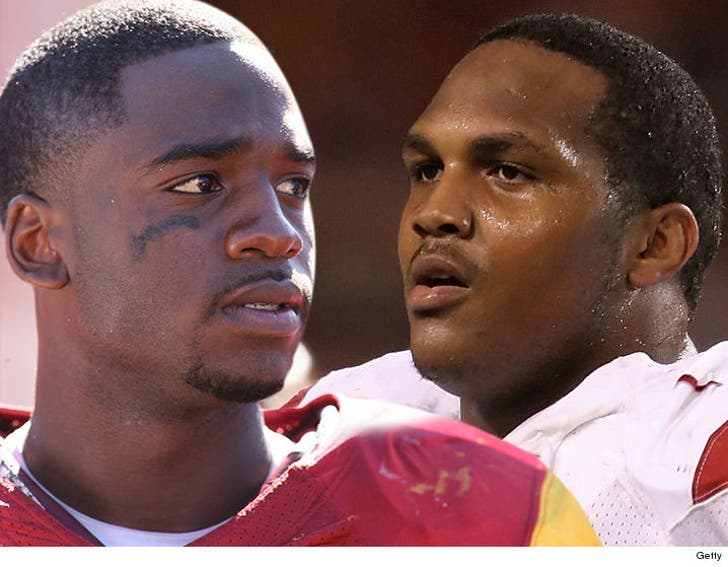 EXCLUSIVE
Joe McKnight's USC family is heartbroken over the death of the running back.
We spoke with Tennessee Titans linebacker Jurrell Casey -- who played with McKnight in 2008 and 2009 -- who tells us, "He will definitely be missed."
"I want to send my regards to his friends and family," Casey says.
"He was always a great guy and fun to be around. He's always had encouraging words. We had some great laughs. He was such a good person to talk to."
Brian Cushing also issued an emotional statement -- "Joe I'll never forget the time we had together at SC. It was unbelievable to see you grow and work your ass off from a freshman until the day you were drafted."
"We competed every day in practice only wanting the best for each other. I'm absolutely crushed to hear the news today about you being gone. I'll never forget what you accomplished and how far you came as a player and a person. RIP Joe McKnight."
LenDale White didn't play with McKnight -- but McKnight's death is hitting him very hard.
"I'm so fu****g hurt right now. Tears jus keep flowing I love u lil bro. long live smokin Joe!!!!"
He adds, "I jus keep wishing this is a bad dream!!!"
Reggie Bush -- "RIP my brother Joe McKnight this one hurts bad."
Matt Leinart -- "News about Joe Mcknight is devastating. Just at a loss of words!"
Su'a Cravens -- "Rest In Peace to one of my all time favorite Trojans Joe McKnight ... Gone way too soon and I'll pray for your family! Sad man, just sad."
Keyshawn Johnson -- "RIP to former Trojan and NY Jet, Joe McKnight. Man this s--- has got to STOP"