Aly Raisman Blasts 'Sick, Pathetic' Larry Nassar at Sentencing (UPDATE)
Aly Raisman
Blasts Larry Nassar ...
You're 'Sick, Pathetic'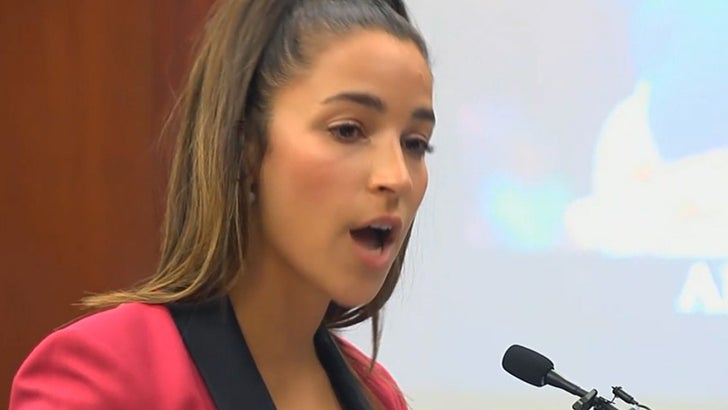 WLNS
8:45 AM PT -- Raisman just addressed the court with her impact statement ... and took Nassar to task for his years of abuse.
"You are so sick, I can't even comprehend how angry I feel," Aly said ... adding that he's "pathetic" for begging the judge to stop his victims' statements.
Raisman also went after Team USA Gymnastics and the U.S. Olympic Committee for their negligence.
"It's clear if change is left up to these organizations, history will repeat itself."
Aly Raisman and her former Team USA teammate, Jordyn Wieber, are facing Larry Nassar on one of the last days of his sentencing ... with Jordyn bravely addressing the disgraced doctor she says abused her "time after time, appointment after appointment."
Jordyn gave her impact statement before taking a seat next to Raisman in the front row of the Michigan courtroom ... revealing she too was abused by Nassar, just like the other Olympic champions -- Raisman, McKayla Maroney, Gabby Douglas and Simone Biles.
"I thought that training for the Olympics would be the hardest thing I would ever had to do," Wieber said, while fighting back tears.
"But in fact, the hardest thing I ever had to do was process that I was a victim of Larry Nassar."
Over 100 women in total are expected to give statements ... before the judge decides Nassar's fate.