Video of Fabolous Threatening, Raging at Emily B and Her Father
Fabolous
Video Shows Him Raging at Emily B & Her Dad ...
'I Got a Bullet with Your Name On It!'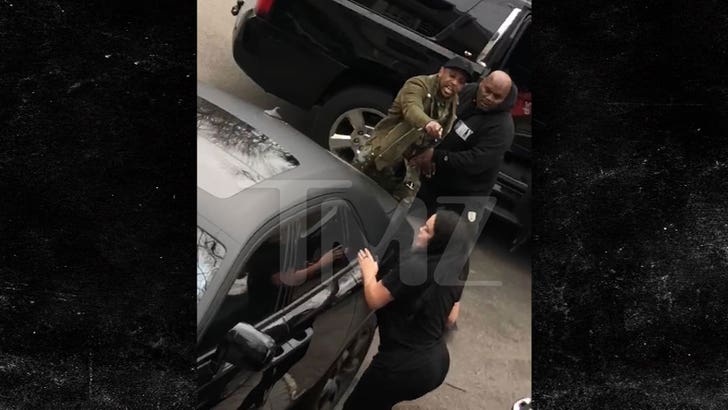 MARCH 2018
TMZ.com
11:00 AM PT -- Fabolous' longtime attorney Alberto Ebanks tells TMZ ... "This is only an argument. There certainly is no crime being committed. If what you see in the video were a crime, we'd have to build more jails."
TMZ has obtained video of Fabolous flying into an absolute rage at his baby mama Emily B, and her father, all while brandishing a sharp object and leveling threats about shooting them.
The video was shot on Wednesday evening in the driveway of Fab and Emily's Englewood, NJ home -- and the rapper's bodyguard is attempting to hold him back as he yells at Emily and her father. At one point he asks Emily why her dad is even there -- her dad yells back, "That's my motherf***ing daughter" and calls Fabolous a coward.
In the video, Emily is clearly trying to record Fabolous, which further enraged him. He lunged at her a couple of times with the object in his hand, and she quickly retreated while screaming. You can also hear a child crying ... which could be one of Emily and Fab's 2 kids inside the house.
As we reported, Emily told police she'd sent a family member to the house to remove 2 handguns she feared Fab would use against her when he got home. The video shows Fabolous telling Emily's father he has a bullet with his name on it.
Emily also claims Fabolous punched out 2 of her teeth on March 7.