Mark Zuckerberg Spars with Sen. Ted Cruz During Facebook Data Breach Grilling
Mark Zuckerberg
44 Senators Later ...
Cruz Throws Political Punch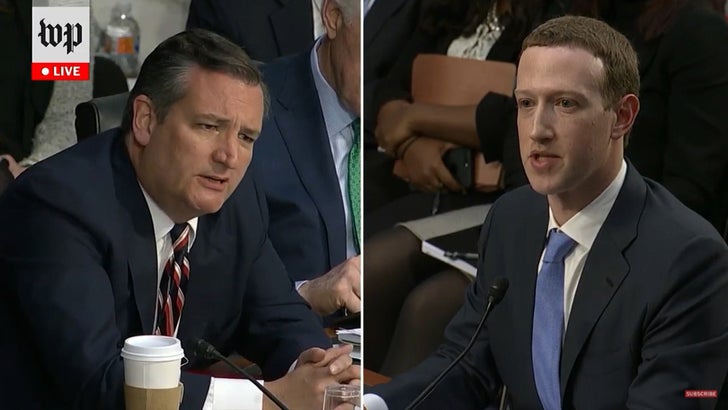 APRIL 2018
Washington Post
Mark Zuckerberg got an intense, lengthy grilling Tuesday from dozens of senators, and none was more demanding -- and political -- than Sen. Ted Cruz.
Most senators asked Zuck about privacy and data-related issues, but Sen. Cruz decided to hammer the CEO over the alleged censorship of conservative-themed FB pages. At one point, Cruz asked if the honcho's company took note of its employees' political views, to which Zuckerberg said no.
But, then Cruz asked about a specific employee getting fired -- presumably because he leaned right. Zuckerberg refused to elaborate, but safe to say Cruz got under the Harvard dropout's skin.
MZ will be back Wednesday for round 2 on Capitol Hill.
BTW ... Zuck had a pretty thick cushion under his butt during more than 4 hours of testifying. Maybe he needed the extra comfort, or maybe -- at 5'7" -- he just needed a boost.