Trump's Economic Adviser Larry Kudlow Slams Trudeau Before N. Korea Meeting
Trump's Economic Adviser
Justin Trudeau Made Us Look Weak
The Prez Ain't Taking That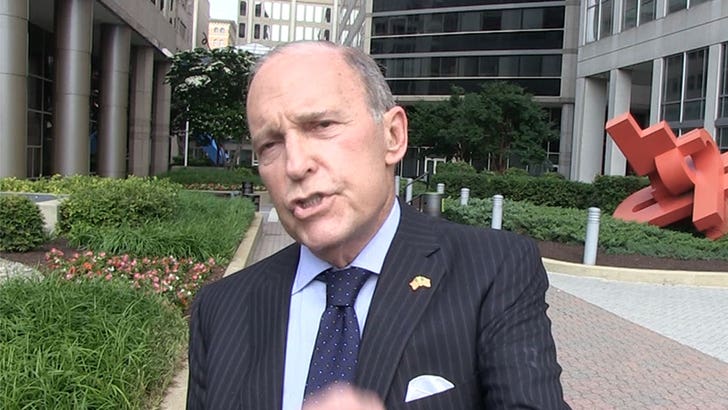 TMZ.com
Donald Trump's chief economic adviser says Canadian PM Justin Trudeau screwed the U.S. ahead of an historic meeting with North Korea ... so POTUS had to hit back.
We got Larry Kudlow Sunday in D.C. after going on TV to slam the Prime Minister for making DT look weak after he'd left the G7 summit this week -- and right before he's set to meet with Kim Jong Un. He says Trump wasn't gonna take that lying down.
PM Justin Trudeau of Canada acted so meek and mild during our @G7 meetings only to give a news conference after I left saying that, "US Tariffs were kind of insulting" and he "will not be pushed around." Very dishonest & weak. Our Tariffs are in response to his of 270% on dairy!

@realDonaldTrump
Trudeau held a press conference addressing the U.S. recently announcing they'll be imposing tariffs on certain Canadian imports, saying Canada wouldn't be "pushed around" and will do the same to us.
Canadian Prime Minister Justin Trudeau says he will impose retaliatory measures to answer President Trump's tariffs on steel and aluminum: "Canadians: we're polite, we're reasonable, but we also will not be pushed around." https://t.co/qtUL2rS6Ik pic.twitter.com/z4Kw1DzdqA

@CNN
Kudlow says Trudeau's remarks were a betrayal to everything the G7 summit accomplished, and that Trump had every right to retaliate ... and call off signing a unifying communique between a bunch of Western allies. More importantly ... he had to look tough for Kim.
Diplomacy ... it's all about appearances, apparently.