Ohio State Suspends Urban Meyer Three Games After Investigation
Urban Meyer
Suspended 3 Games by OSU
After Dom. Violence Scandal
Ohio State has suspended head football coach Urban Meyer for 3 games without pay after an investigation determined he permitted misconduct to continue involving ex-WR coach Zach Smith.
However, school officials state neither Meyer nor Athletic Director Gene Smith covered up or condoned the alleged domestic abuse by Smith, but rather ... "failed to take sufficient management action relating to Zach Smith's misconduct and retained and Assistant Coach who was not performing as an appropriate role model for OSU student-athletes."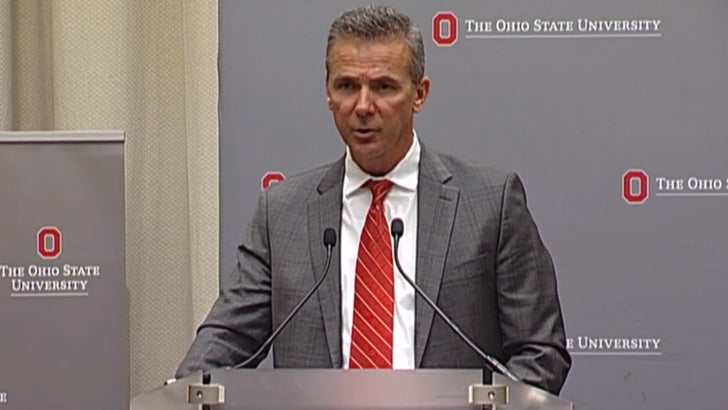 The Ohio State University
Meyer is suspended through September 2 and for the games on Sept. 1, 8 and 15 without pay. The final decision came after officials met with Meyer and Smith for more than 10 hours Wednesday.
As we reported ... Meyer was placed on administrative leave August 1 after the coach admitted he lied to the media when he initially claimed he had no knowledge about a 2015 domestic violence incident involving Smith.
Smith was fired from his job on July 23rd when details from the 2015 arrest went public. Smith had been arrested for felony domestic violence and felonious assault for allegedly attacking his then-wife Courtney Smith.
Courtney claims she told Urban Meyer's wife about the abuse -- but no action was ever taken by the University.
On July 24, 2018 ... Meyer was asked about the incident at Ohio State Media Day -- and claimed he had no knowledge of it.
Meyer told reporters he got a "text late last night" that "something happened" involving Smith back then but insisted "there was nothing."
Meyer said, "Once again, there's nothing. Once again, I don't know who creates a story like that."
Smith began coaching on Meyer's staff at 2005 as a graduate assistant at the University of Florida. He also happens to be the grandson of former Buckeyes coach Earle Bruce -- who Meyer has referred to as a mentor.
Courtney Smith claims Zach began abusing her in 2009 while Zach was working at Florida. He was arrested in '09 for aggravated battery on a pregnant victim but Courtney ultimately decided not to move forward with charges.
When asked about the '09 incident at the OSU Media Day in July, Meyer said the Smith's were a "very young couple" at the time and he did not push for an internal investigation because he wanted to "let the experts do their jobs."
He added, "We're certainly not going to investigate. It came back to me that what was reported wasn't actually what happened."
Courtney ultimately divorced Zach in 2016. However, their relationship is still very bad -- she got a civil protection order against him last month.
For his part, Zach claims he never abused Courtney but admits things did get physical between the two during heated arguments.
"There were several times where things got out of hand between us and I'm not saying that as I restrained her and moved her out of my way to exit the house to get out of a volatile situation ... it's completely possible that she got a bruise or a mark," Zach said during a radio interview.
In addition to the alleged domestic violence, Zach's ex-wife Courtney claims he performed sex acts in the Ohio State athletic dept. offices with a female OSU staffer and documented it in photos and video.
She also claims Zach took multiple selfie penis pics during the OSU trip to the White House in 2015 when the team was invited to meet with President Barack Obama.
There's more ... Courtney also claims Zach ordered several sex toys and other adult items from Amazon and had them shipped to the OSU athletic officers, where staffers would have to open the boxes and deliver them to Zach.
Among the items ... "Men's spider enhancer thong triple c**kring, body wear CS2 metallic erotic c**k strap gold and snake skin, WildmanT ball lifter red, candyman men's jock suspenders" and more.