Trump Catches Backlash for Double Fist Pump on 17th Anniversary of 9/11
President Trump on 9/11
Let's Do This!!!
President Trump doesn't seem to know the difference between a moment of solemn remembrance and a double fist pump celebration -- 'cause he did the latter on September 11th.
45 caught a TON of backlash Tuesday on the 17th anniversary of the 9/11 attacks after he was seen doing a Rocky as he and Melania touched down in Johnstown, PA en route to Shanksville, where he delivered remarks to honor those who died on Flight 93.
The picture isn't entirely out of context either -- there wasn't much applause from the crowd there on the ground receiving Trump and the First Lady ... so it certainly appears the Prez's gesture was inappropriate and probably (most definitely) ill advised.
The backlash comes amidst multiple memorials taking place across the country paying tribute to the 9/11 attacks and its 2,983 victims -- most notably, perhaps, the one that's happening at Ground Zero, where a traditional moment of silence was held Tuesday at 8:46 AM to mark the first plane hitting the North Tower. Two minutes later, names of the people who died were read.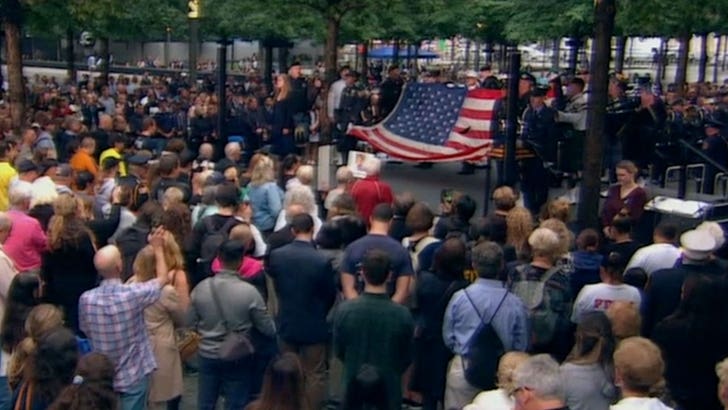 FOX News
Just 2 days ago, the Cortlandt Street subway station, which used to be under the World Trade Center, was re-opened. The terminal was destroyed when the Towers collapsed.
This picture -- taken Tuesday morning from a plane and shared on social media -- shows the One World Trade Center poking out above the clouds. Trump tweeted, "17 years since September 11th!" He also praised Rudy Giuliani, who was Mayor in 2001 and is now Trump's lawyer and mouthpiece, for the job he did in NYC after the attack.
Vice President Pence, meanwhile, stayed in Washington and visited the Pentagon, where one of the hijacked planes crashed.
Originally published -- 6:25 AM PT
7:35 AM PT -- Obama also released a heartfelt statement on social media in remembrance of the tragedy of that day.
We will always remember everyone we lost on 9/11, thank the first responders who keep us safe, and honor all who defend our country and the ideals that bind us together. There's nothing our resilience and resolve can't overcome, and no act of terror can ever change who we are.

@BarackObama