Cuba Gooding Jr. Filmed Partying at Club Where Woman Says He Groped Her
Cuba Gooding Jr.
Filmed Partying it Up at Club
Where Woman Says He Groped Her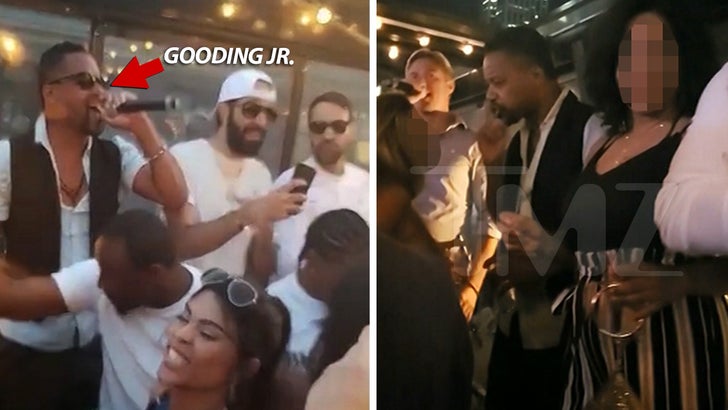 TMZ.com
12:02 PM PT -- TMZ just got a hold of video that features Cuba at the venue where he allegedly groped a woman's breast. This footage was filmed Sunday evening at the Magic Hour Rooftop Bar and Lounge in NYC -- the night and location in question.
Considering the 911 call was placed around 1 AM, we'd assume most of what we're seeing here was before the alleged incident.
You can see Cuba was having a good ol' time, singing karaoke with his pals and carrying a drink in his hand. Later in the clip, you see him standing by two women -- whose faces we've blurred -- and he tells one of them to hush by signaling for her to be quiet. He also seems agitated by the interaction as the woman tries talking to him.
It's unclear from the video if any of the people around him have anything to do with the alleged incident, but it's interesting for sure.
Cuba Gooding Jr. allegedly got handsy with a woman in NYC, and now cops are looking into it ... TMZ has confirmed.
Law enforcement sources tell us ... a woman called 911 early Monday morning to report the actor for allegedly forcibly touching her breast without her consent at a club Sunday evening. Our sources say she told cops Cuba groped her while they were socializing.
We're also told that she got into his face about it afterward, and the 2 of them had to be broken up by security. Our sources tell us Cuba eventually left the club, and by the time officers showed up on the scene ... he was long gone.
The NYPD is currently looking for Cuba and we're told the plan is to book him for forcible touching. We've reached out to his attorney for comment ... so far, no word back.
Originally Published -- 8:08 AM PT