Bill Cosby Settles Defamation Lawsuit, Janice Dickinson Declares Victory
Bill Cosby
Janice Dickinson Defamation Suit Settled
... Over His Objections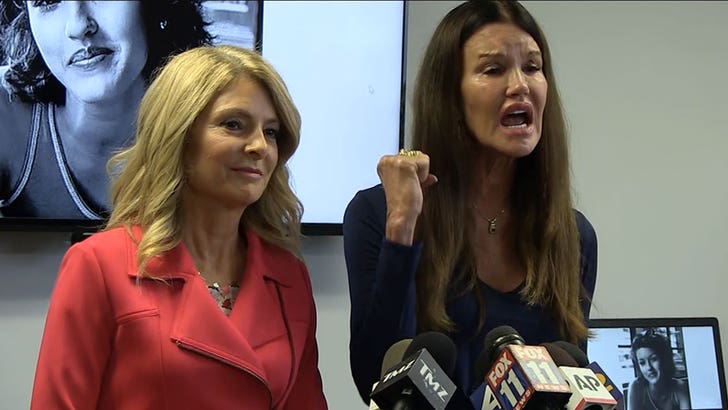 TMZ.com
9:34 AM PT -- Dickinson just spoke about the settlement, calling it a victory and justice after a "rough road" that included years of insults and attacks for coming forward against Cosby.
Janice is celebrating, but says no cash amount can erase the memories and trauma of an assault. She urges women to never give up, know their rights, keep telling their stories and stop wielding power to perpetrators of sexual misconduct.
Lisa Bloom also spoke, thanking her legal team and several witnesses -- including Dr. Drew -- who came forward on Dickinson's behalf to help them achieve the legal victory.
The attorney says Janice received a "very large settlement amount" that fully and fairly compensates her for the defamation, but the exact amount must remain confidential. However, she says Janice is free to tell her story ... nothing in the settlement can silence her.
She closed by saying Cosby and his team misjudged Dickinson, and hailed her as a victim turned survivor turned winner ... and an inspiration for other women.
Dickinson claimed Cosby's lawyer slandered her when he said her claims of sexual assault by the comedian were false. She also claimed the lawyer made his remarks at Cosby's behest.
Cosby fought the lawsuit, but now his insurance company, AIG, agreed to settle the lawsuit over Cosby's strong objections.
Cosby continues to maintain the lawsuit was without merit and he never authorized the statement made by his lawyer ... this according to his spokesperson, Andrew Wyatt.
We're told this is the third case in recent months AIG settled a case over Cosby's objections, and Cosby's side believes it's illustrative of the insurer's bad faith and is "robbing Mr. Cosby of the opportunity to clear his name in a court of law."
Cosby's legal team says he's confident if the case went to trial, a jury would have found the statements made by Cosby's former attorney -- which were allegedly never spoken by Cosby himself -- were not defamatory ... as Dickinson claims.
Dickinson's lawyer, Lisa Bloom, has called it a "major, final, legal victory."
Bloom will be holding a news conference with Dickinson Thursday at 9 AM PT ... and TMZ will live stream.
Originally Published -- 6:57 AM PT