Kevin Durant Says He's Sorry People Saw Homophobic Slurs, 'Hopefully I Can Move Past It'
Kevin Durant
Sorry People Saw Homophobic Slurs I Used
... 'Hopefully I Can Move Past It'
3:50 PM PT -- Kevin Durant addressed the homophobic slurs he used in a private IG convo with Michael Rapaport -- explaining he's sorry people saw him use the language ... but didn't apologize for using the offensive words.
"I'm sorry that people seen the language that I used. That's not what I want people to see from me. Hopefully I can move past it," Durant said Thursday afternoon during a media session with reports.
Nets head coach Steve Nash was also asked about the situation, and said the team has spoken with KD about the language he used ... but would keep the details private.
"First of all, it was a private conversation with him and the other party. We've talked about it internally but we'll keep all that stuff internal."
It's still unclear if the NBA will take action against Durant. We've reached out several times, but have not heard back from the league.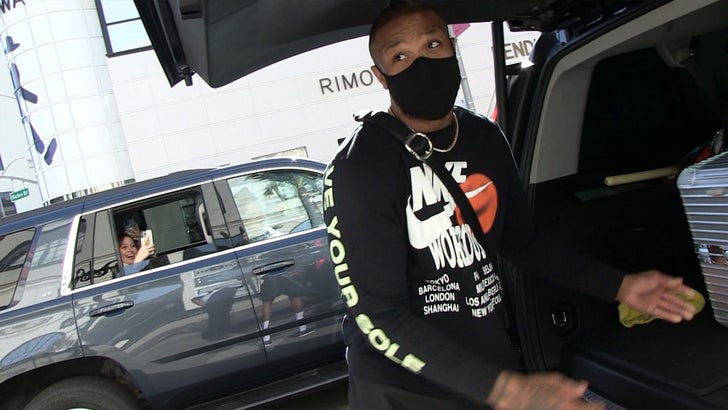 TMZSports.com
"Of course not, he did nothing wrong," the Milwaukee Bucks player told us in Beverly Hills on Wednesday before taking on the L.A. Lakers.
"He didn't do nothing wrong."
Not everyone agrees with Tucker -- some people are VERY upset Durant used crude homophobic and misogynistic slurs to attack Rapaport in a private DM conversation the actor made public earlier this week.
Rapaport posted screenshots of recent conversations with the Brooklyn Nets star and said, "I receive threats and disgusting messages DAILY, but never in my wildest dreams did I think [Durant] would be among them."
"[Duant] himself is now threatening me, bringing up my wife and wants to fight. This is supposed to be America's sweetheart right?"
The question now ... will (and should) the NBA get involved and take action against Durant, considering the league's recent push against hateful language directed at any minority group.
Remember, the NBA took action against Meyers Leonard who used an anti-semitic slur during a video game live-streaming session ... suspending him for a week and hitting him with a fine.
Sure, Durant's comments were intended to be private ... but fact is, they're public now.
For his part, KD has only commented once about the Rapaport convo -- saying, "Me and mike talk CRAZIER than this on the regular and today he's pissed ... My bad mike, damn!!"
Originally Published -- 6:10 AM PT