'Tiger King' Star Jeff Lowe & Wife Arrested for DUI in Oklahoma
'Tiger King'
Jeff Lowe & Wife Busted for DUI ...
Weeks After Big Cat Seizure
12:18 PM PT -- TMZ just obtained the incident report in regards to Jeff and Lauren's DUI arrest -- and it appears Oklahoma City PD is claiming that both hubby and wife were driving at different times before they got busted.
According to the report, OKCPD alleges that they spotted a white Range Rover pull out of a parking lot at a high rate of speed and then stop abruptly when they saw a cop was nearby. The officer goes on to note that he saw Lauren lean out of the driver side window, yell for help and then exit the driver side door ... only to switch places with Jeff, who was riding passenger.
The police go on to claim that Jeff then started driving himself and pulled into another lot -- this as cops started hitting the lights and pursuing. Before coming to a stop, they claim Jeff made an illegal lane change without signaling. Once they were pulled over, OKCPD says they conducted field sobriety test for Jeff, whom they claim appeared incredibly intoxicated.
They note Lauren, too, appeared quite drunk ... as her speech was slurred, among other signs. That seems to explain why she was also arrested for DUI.
Jeff Lowe is continuing to take legal lumps -- the current owner of Joe Exotic's onetime 'Tiger King' zoo was behind bars to kick off his weekend ... this after a DUI bust.
Lowe and his wife, Lauren, were both arrested early Saturday morning in Oklahoma County for driving under the influence ... and it looks like Jeff might've been the one behind the wheel, because the Sheriff's Office also booked him on a changing lanes improperly charge.
Since it appears Jeff was driving it's unclear why Lauren was also arrested for DUI.
The Lowes were brought to jail around 4 AM ... and they posed for these mugs while getting processed. We weren't quite sure that was Jeff at first without his signature bandana/cap combo -- but yep, that's him alright. Last we checked, they were still in custody.
The details of the arrest/alleged incident haven't surfaced yet -- but in any case, it's the latest hit Jeff and co. have taken when it comes to Johnny Law ... both on the state and federal level.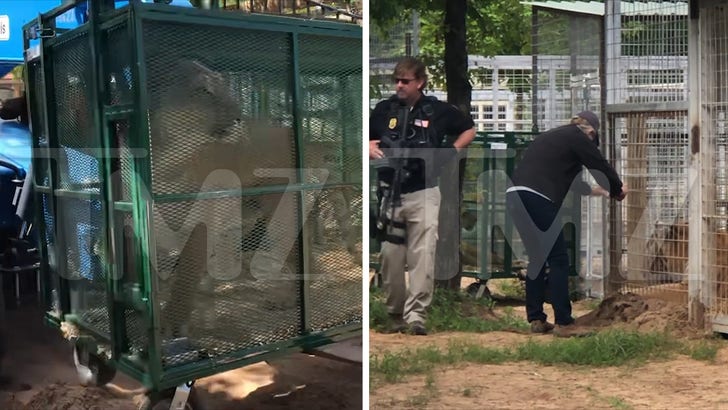 5/6/2021
TMZ.com
As you might recall ... he had a couple run-ins with law enforcement earlier in the month of May, as they steadily confiscated dozens of his big cats and other animals that he had at his zoo ... which the feds claim weren't being properly cared for or, in some cases, were malnourished, allegedly violating federal guidelines.
So, yeah ... the dude's had it rough lately, and this is just the most recent ding.
Fans of the former zoo owner might be rubbing their hands together in glee watching Jeff's proverbial fall from grace right now -- as some believe he did Joe dirty and helped land him in prison ... where JE currently remains as he continues to try and fight for his release.
Originally Published -- 11:10 AM PT