Terrifying Trailer for 'Winnie The Pooh' Horror Movie Drops
Winnie The Pooh
Disney Character-Turned-Murderer
In Trailer for Horror Flick
12:01 PM PT -- The guys behind the new (and improved?) Winnie the Pooh movie say they pissed off a lot of fans of the beloved character -- but they say it was 100% worth it to get into uncharted territory.
Rhys Waterfield and Scott Jeffrey -- the director and producer of 'Blood and Honey,' respectively -- joined us on "TMZ Live" Wednesday to talk about all the buzz on their horror take of the yellow bear ... and they say it wasn't easy going down this road.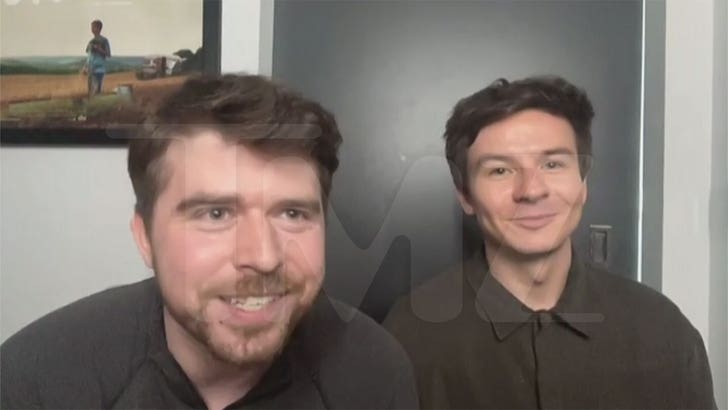 TMZ.com
As you can imagine, there's a lot of folks who know WTP as an innocent stuffed animal -- and when Rhys and Scott ventured into turning him into a serial killer ... they felt the wrath of that base. Still, they tell us this take is for a whole new audience -- and that their murderous Winnie doesn't necessarily have to tarnish people's memory of the soft-spoken one.
BTW, they say there's other famed fictional characters that are in the public domain now that they wanna take a horror-filled crack at -- including the boy who never grew up! 😅
Winnie The Pooh, one of Disney's most beloved characters, is now a thing of nightmares ... thanks to a new horror flick coming out which turns Pooh into a murderer, and we've got one of the first looks at the trailer.
The movie appears to be the tale of Winnie's friend, Christopher Robin, returning to The Hundred Acre Wood to find his stuffed animal BFF and Pooh's pals missing. Things quickly take a turn for the worse, and all hell breaks loose.
From there ... there's plenty of screams, blood, violence and possibly murder. Much different than the kid's tale. BTW, "Winnie The Pooh" became public domain in 2022, which is how they were able to pull the whole thing off.
Demonic photos of the new Pooh first went viral back in May, building a ton of anticipation for the project. Looks like it's finally getting close to a release.
The kids may never know Pooh as he once was...
Originally Published -- 8:00 AM PT