Protester Dragged Off Field For Interrupting Rams-Bills Game With Pink Flare
Rams Vs. Bills
Protester Dragged Off Field
... For Interrupting Game W/ Pink Flare
The L.A. Rams and Buffalo Bills' season opener nearly went up in smoke on Thursday ... when protesters rushed the field with a pink flare -- with one being dragged off by security.
Two women somehow found their way onto the field during the fourth quarter at SoFi Stadium ... as many in the sold-out crowd whipped their phones out to record the debacle.
Former NFL player Emmanuel Acho was one of them -- and you can see in his footage one of the two women was holding up a pink smoke bomb while racing down the field like a running back.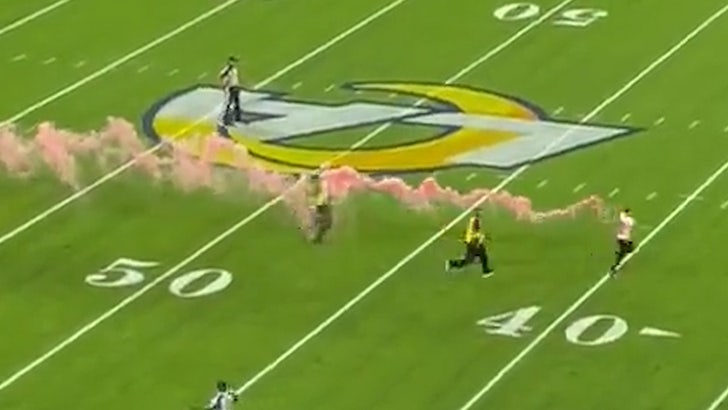 9/9/22
Twitter/@EmmanuelAcho
SoFi security quickly caught up to her and tackled her to the ground -- right in front of the Bills' defensive huddle -- before hauling her away.
The protesters wore a RightToRescue.com shirt, which is a website that claims to help "the whistleblowers facing prison time for exposing factory farm abuses and rescuing suffering animals."
Direct Action Everywhere took responsibility for the protest and released a statement saying the two women were there to bring awareness to the upcoming trial of Smithfield Foods factory farm whistleblowers.
"The protest aims to shine a light on what DxE calls a landmark trial for animal rights, food justice and free speech, and more broadly, on the entire animal agricultural industry, which DxE says is inherently abusive and exploitative."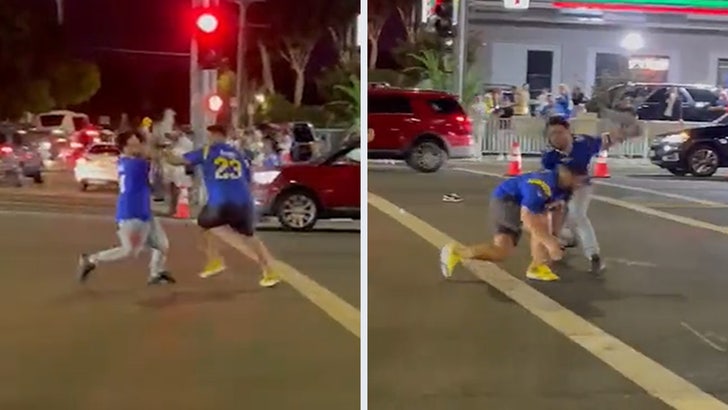 Twitter/@EmmanuelAcho
That wasn't the only wild scene of opening night -- Rams and Bills fans got into a fight after the game ... right in front of Acho and ex-NFL star LeSean McCoy.