Commanders Fan Socks Woman In Head In Tussle At Cardinals Game
Washington Commanders
Fan Socks Woman In Head At Cards Game
... Tense Tussle In Stands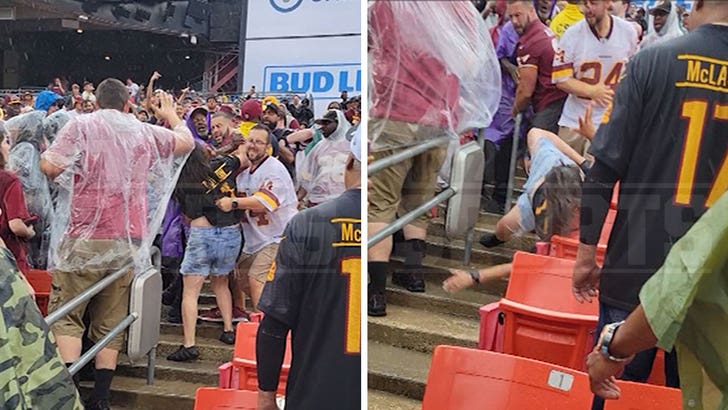 TMZSports.com
2:05 PM PT -- TMZ Sports has obtained more footage of the brawl involving the Commanders fans ... and you can see just before the woman uncorked her haymaker -- she was shoved to the ground by a man.
A female Commanders fan socked another woman in the back of the head during a tense scuffle at FedEx Field on Sunday ... and the wild moment was all captured on video.
The tussle went down at some point during Washington's tilt with the Arizona Cardinals ... when a group of people wearing Commanders' gear got so livid with each other, things turned physical.
It's unclear what sparked the initial commotion -- but as the individuals were arguing, one woman in a black Jahan Dotson jersey cocked back her fist and threw it into another woman.
The blow rattled the Commanders fan ... and she held the back of her head in pain as others stepped in to separate the two.
Here's video I got of #Commanders fight. Not great for context--neither of the original belligerents are in the video (one had already been kicked out), and it's both way after the start and way before the end (ie when 10 Apex folks showed up). Started with Ravens fan and pic.twitter.com/UZtU9b2dVF

— Shitcoin Appreciator (@ASAPedro831) September 10, 2023 @ASAPedro831
Fortunately, no other punches were thrown ... and cooler heads prevailed amongst the combatants.
It's unclear if any arrests were made ... but at least all parties got to go home somewhat happy despite it all -- as the Commanders pulled out the victory, 20-16.
Originally Published -- 7:12 AM PT