Pacman Jones Rants After Airport Arrest, Terroristic Threats Charge 'Bulls***'
Pacman Jones
Arrested At Airport
... Calls Terroristic Threats Charge 'Bulls***'
8:30 AM PT -- Adam "Pacman" Jones shared his side of the incident after being released from jail ... passionately defending himself to a group of reporters.
Pacman claims he didn't do anything wrong ... calling the terroristic threats charge "bulls***" and adamantly denying being drunk during the alleged altercation.
"Do I look intoxicated to you?" Pacman asked a reporter. "I only been locked up for two hours."
"Y'all talking about 6:30 in the morning. Who in the hell is drunk at 6:30 in the morning, man?"
Pacman -- who is no stranger to controversy -- alludes to being the victim of the situation ... adding, "This s*** getting old, bro. It's getting old. And we gotta stop doing this."
Pacman also called on the media members to "report the motherf***ing facts" ... explaining the whole thing was sparked by asking to move seats after the electric outlet at his assigned spot wasn't working.
Ex-NFL star Adam "Pacman" Jones was arrested for making terroristic threats and alcohol intoxication at an airport near Cincinnati early Monday morning ... after officials say police were called to assist with an "unruly passenger."
TMZ Sports has confirmed the former 6th-overall pick in the 2005 NFL Draft was taken into custody around 6 AM ... and was officially booked an hour later.
Jones is facing misdemeanor charges of alcohol intoxication, disorderly conduct and terroristic threatening. While we're working to gather more information, the latter charge is especially of note ... considering Monday is the anniversary of the September 11, 2001 attacks.
Prior to the arrest, Jones posted a video of himself walking through the Northern Kentucky International Airport ... ranting about the Bengals' 24-3 loss to the Cleveland Browns.
This isn't Jones' first run-in with the law ... and isn't his first airport incident, either -- he famously got in a brawl in Atlanta back in 2018, although officials determined he was not the aggressor.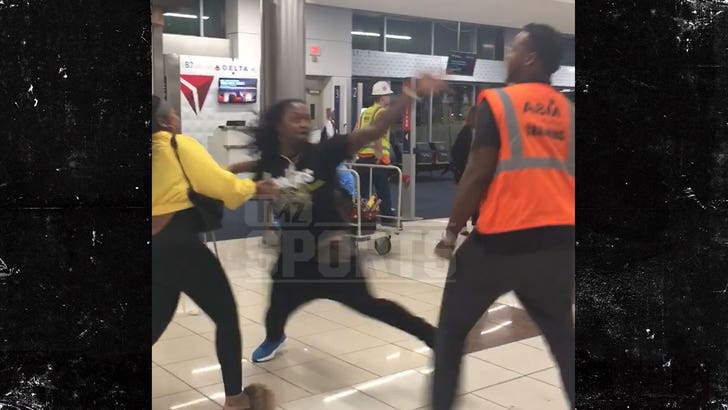 JULY 2018
TMZSports.com
Jones -- who played for the Titans, Cowboys, Bengals and Broncos over the course of his 13-year career -- was most recently arrested in 2021 ... after he got in a violent altercation at a bar in Cincinnati.
Originally Published -- 8:11 AM PT