Toby Keith Accepts Country Music Award Amid Stomach Cancer Battle
Toby Keith
Brings Levity To Cancer Diagnosis ...
While Accepting Country Music Award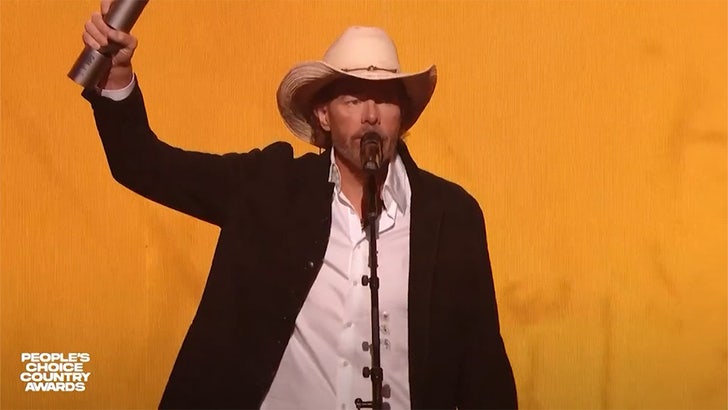 NBC
Toby Keith hasn't lost his sense of humor amid his battle with stomach cancer ... providing some levity as he accepted the Country Music Icon Award.
The singing legend walked onstage at the People's Choice Country Awards 2023 Thursday night to receive the inaugural statue for his amazing work as an entertainer, humanitarian and businessman.
And it was none other than country crooner Blake Shelton who handed Toby the trophy after a video montage honoring Keith and showing him through the years.
Toby then stepped up to the mic and quickly hit the punchline ... "Bet you thought you'd never see me in skinny jeans."
Of course, Toby was referring to his weight loss due to his cancer diagnosis, but the audience just loved it, breaking out in laughter.
Toby continued, "I want to thank the almighty for allowing me to be here tonight. You've been riding shotgun with me for a little while."
He also gave props to his family and his team, pointing out "a lot of people go into making a big career like this of 30 years." But, Toby gave the biggest shout-out to his multitude of fans.
After his speech, Toby cranked out his hit song, "Don't Let the Old Man In," marking his first TV performance since telling the world he had stomach cancer last June.