Armed Biker Terrorizes Mom And Kids in Philadelphia, Video Shows
Motorcycle Madness
Video Shows Biker Chaos In Philly ...
Mom, Kids Violently Targeted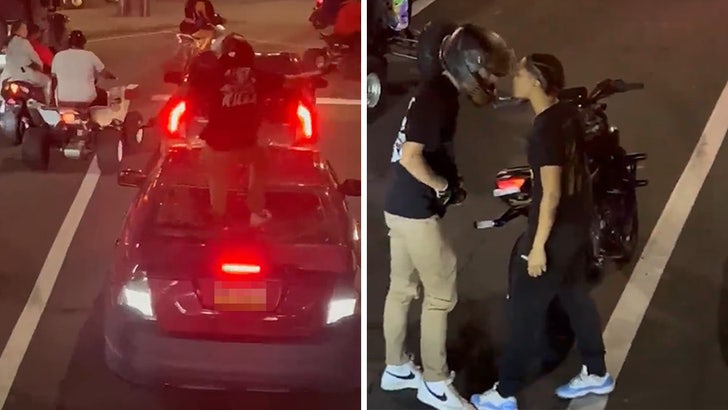 Instagram /@vortex.hz
A gang of motorcycle riders briefly took over downtown Philadelphia this past weekend ... and one pistol-packin' hooligan put a mom and her kids in his violent crosshairs.
Dozens of bikers rolled through "The City of Brotherly Love" Sunday night, stopping traffic and causing a total ruckus.
Check out this video ... which shows all the chaos as it unfolds and the armed troublemaker getting off his bike to climb onto the back of the mom's car.
The young man jumps up and down on the rear windshield, shattering the glass.
As he leaps out of the car, his gun drops to the ground, and he quickly scoops it up as the furious mom exits the driver's seat and confronts him at an intersection.
During their ensuing argument, the mom walks toward him, making him backpedal before he shoves her and headbutts her with his helmet on.
He then straddles his bike, but the mom pushes him over, yet he manages to ride away.
The mom, Nikki Bullock, later told CBS Philadelphia that at the time she was driving for Uber Eats with her kids in the car so she wouldn't have to pay for expensive daycare services. Bullock said her children were terrified and screaming throughout the ordeal.
Philadelphia cops are now searching for the gun-toting suspect.