Texas Rangers Blare Creed, Suck Down Booze To Celebrate World Series Win
Texas Rangers
Blare Creed, Suck Down Booze
... Epic World Series Celebration!!!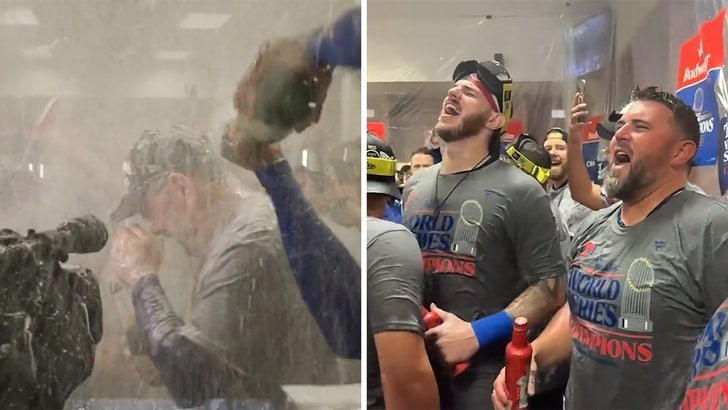 X/@Rangers
The Texas Rangers won the World Series and then they dominated the postgame celebration ... sucking down a ton of beers and bubbly -- all while they blared Creed on the sound system!!
Corey Seager, Nathan Eovaldi and the rest of the guys threw the epic locker room party just a few minutes after they beat up the Diamondbacks, 5-0, at Chase Field in Arizona.
Manager Bruce Bochy got everything kicked off with a congratulations speech -- praising his team for its 4-1 Series win ... and then for a while, the guys got after it.
They dumped bottle after bottle of champagne and Budweiser on each other ... pausing only to make sure they sang Creed's "Higher" -- their unofficial postseason anthem -- as loud as possible.
The fiesta got so rowdy that at some points the guys filled buckets full of beer ... and then they doused each other in the suds.
Eventually, the dudes packed it in to fly back home to Texas ... and you can see in a video of the aftermath of their celebration, it looked like dozens -- if not hundreds -- of bottles of alcohol were spilled during the party.
As for the on-the-field action, Seager made history ... becoming just the second position player ever to win World Series MVP honors. Bochy, meanwhile, logged his FOURTH W.S. title with the victory.
And, Creed made sure to shout out the guys following the dub ... writing on X, "Congratulations Rangers!"
The championship parade in Dallas won't go down for another few days -- giving the Rangers plenty of time to nurse their hangovers ... or to keep the party going!!