AEW's Adam Page Staples Swerve Strickland's Face, Drinks Blood In Gruesome Match
AEW's Adam Page
Staples Swerve Strickland's Face, Drinks His Blood
... In Gruesome Match!!!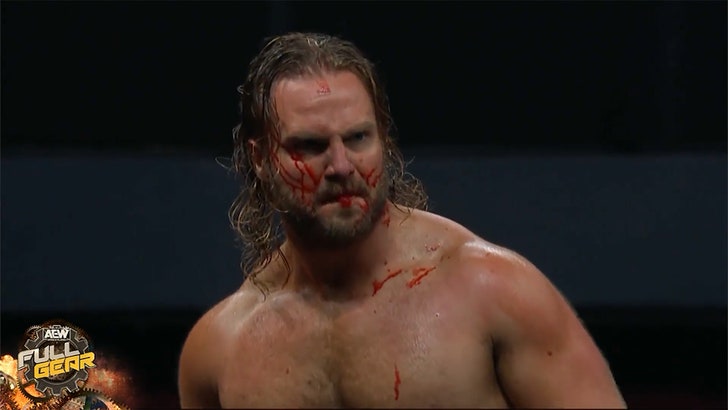 All Elite Wrestling
AEW's Full Gear went down at The Forum in L.A. on Saturday, but the match was better suited for the Staples Center ... after "Hangman" Adam Page busted out a Swingline and drove a staple into Swerve Strickland's face, before drinking his blood!
It was as nasty as it sounds ... and the thousands in the building loved it!
If you're a wrestling fan, you know the history ... Page and Strickland HATE each other, and the Texas Deathmatch format (and lack of rules) was the perfect setting for the match.
Ultimately, Swerve pinned Hangman, defeating him ... after some help from Prince Nana and Brian Cage. But, it's what happened before the pin that has fans talking.
Hangman, holding a heavy-duty staple gun, stapled a drawing done by his son to Swerve's face, instantly drawing blood. Page then grabbed the drawing and ripped it, staple and all, out of Strickland's face.
As Swerve writhed in pain, Adam dove to the ground, grabbed Strickland's head, and actually began drinking his blood.
The entire match was brutal ... and Hangman wasn't alone in resorting to the use of weapons. In fact, Swerve used a barbed-wire-wrapped chair to hit Page. Hangman also slammed Strickland through a barbed wire-wrapped table.
The men did everything short of killing each other in the squared circle.
Beef now over? No chance!