This Week's Biggest Losers 10/07/06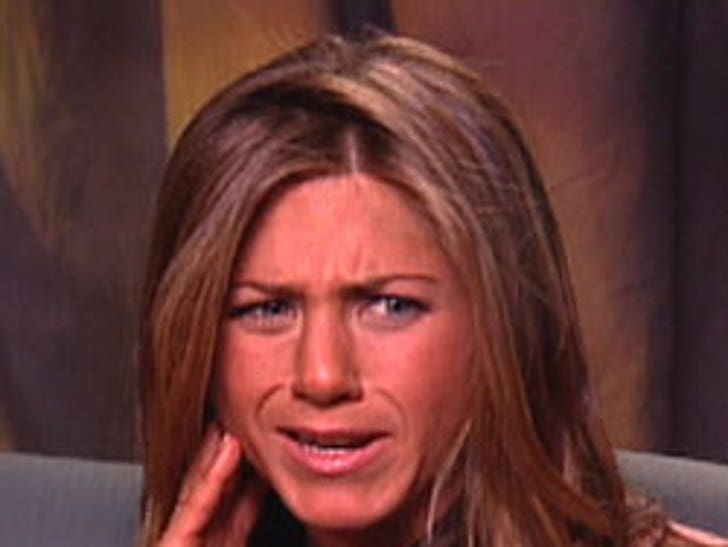 In the new movie "The Departed," Jack Nicholson's character, Frank Costello, at one point says, "We're all [on our way out]. Act accordingly." Here are a few celebs who, depending on your point of view, may or may not be adhering to that philosophy.
Jennifer Aniston: While Brad Pitt was going on this week about his desire to add six more kids to the Brangelina "soccer team," and Vince Vaughn was in London for the shoot of "Fred Claus" and an appearance this Sunday in the 24-Hour Plays Gala at Kevin Spacey's Old Vic Theater, plain-old-Jen-again was likely crying in her Chamomile tea. In inheriting the paparazzi J-glare from previous recipients J. Lo and J. Ro (Julia Roberts), the 37-year-old L.A. native is now left to ponder, once again, the ability of the media fishbowl to scare away the best-looking fish in the sea. Short of dating a paparazzi or stealing Sean Penn away from Robin Wright, Aniston is left with no choice but to put that biological clock on snooze. Again.
Larry King: The week began with Yom Kippur, the High Holy Day during which those of the Jewish faith atone for their sins. The week ended with Mel Gibson solidifying his first post-DUI TV interview, part two of his personal apocalypto PR recovery plan. Only it's not going to be on CNN. In losing the celebrity atonement chat of the year (if not the decade) to cross-town rival Diane Sawyer (it will air in two parts next Thursday and Friday on ABC), King surely ran up and down the Yiddish swear word lexicon. Mel's culpa is this talk show host's Challah and butter, so you can bet those responsible are going to an extra dose of suspender lashes.
Timothy Hutton, Dana Delany: What happens to a show that is half the equal of "24?" It stops cold at 13. NBC's serial drama "Kidnapped," so heavily hyped coming into the fall TV season, will be relegated to Saturday nights in a couple of weekends, right around the time it wraps the shooting of its 13th and final episode. It's a humbling small screen experience for Oscar winner Hutton and episode right out of Bizarro World for two-time Emmy winner Delany. This week's Season Three debut of Sci Fi Channel's "Battlestar Galactica" -- a show Delany guested on last winter -- got the better, dramatic reviews.
Janet Jackson: The reviews for her new album have been just plain "Nasty," leading us to wonder if instead of "20 Y.O" she should have called it "40 K.O" (Jackson turned 40 earlier this year). It's not so much that her "Oprah" abetted return came in second in sales this week to Ludacris' "Release Therapy." Rather, it's that -- in a desperate cry for PR help -- JJ's folks had the nerve to start banging the drum about some sort of vague, future awards show reunion appearance with Justin Timberlake. Let's face it; Jackson missed her best chance at a sure-footed return when she failed to turn her dramatic weight loss into a program on Showtime called "Fat Singer."
George Michael: In light of the fact that the Artist Formerly Known as Together has dozed off in the driver's seat not once, not twice but three times in the past eight months, there's really only one thing left to do. Go country. George could pitch himself to the nine-time Grammy Award winning Texas Swing band Asleep at the Wheel as a sit-in singer on their next tour. Or, he could simply accept the fact that his life is a country and western song and start putting his gold leafed pen to paper. Starting maybe with "Unhappy Meal," a ditty based on his latest post-incident, wee morning hours McDonalds visit with partner Kenny Goss.