Lewis and Clarkson: Who Will and WON'T Perform Tonight
Lewis and Clarkson:
Who Will and WON'T Perform Tonight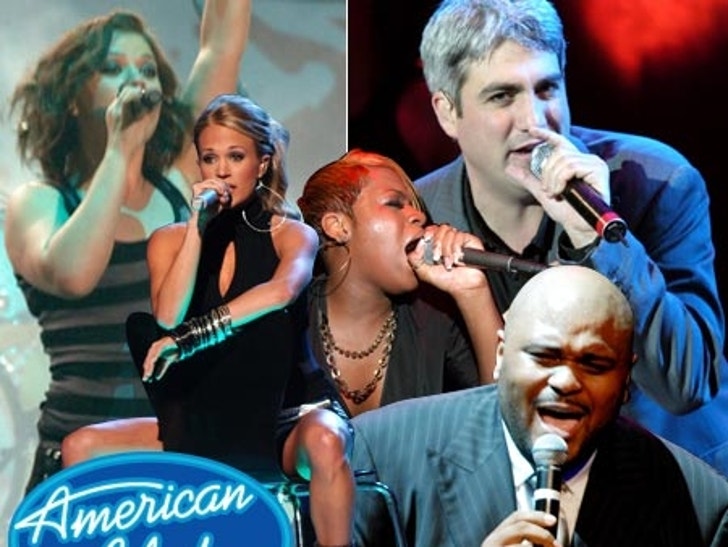 TMZ has learned that Kelly -- and all winners from seasons past, except Fantasia -- will be back performing on the "American Idol" stage for tonight's finale.
Clarkson, Ruben Studdard, Carrie Underwood and Taylor Hicks are headed to the Kodak Theater, but Fantasia Barrino won't be, since she is headlining Oprah Winfrey's production of "The Color Purple" on Broadway.
Sources tell TMZ Gladys Knight will perform "Midnight Train to Georgia" with the top six female finalists, while Smokey Robinson will join the top six male finalists for a rendition of "Ooh Baby Baby." Most recently booted finalist Melinda Doolittle will sing with brother and sister gospel duo BeBe and CeCe Winans, while the hairiffic Sanjaya duets with Aerosmith's Joe Perry to the Kinks' "You Really Got Me." It's sure to be an unbeweavable night!
Beat-boxing finalist Blake Lewis will show off his mad skillz against rapper Doug E. Fresh, and then duet with fellow finalist and probable winner, Jordin Sparks, to the Beatles' "I Saw Her Standing There." Since producers were able to finally get clearance to use Beatles music, a medley of Fab Four hits will be performed as well.
Luckily, we're told no one is expected to be exhumed a la Elvis on tonight's finale!
UPDATE: A well-placed source tells TMZ that anti-establishment rockers Green Day sold out and will be on the "American Idiot" "Idol" finale too!