'Idol' Is Finally Over!
'Idol'
Is Finally Over!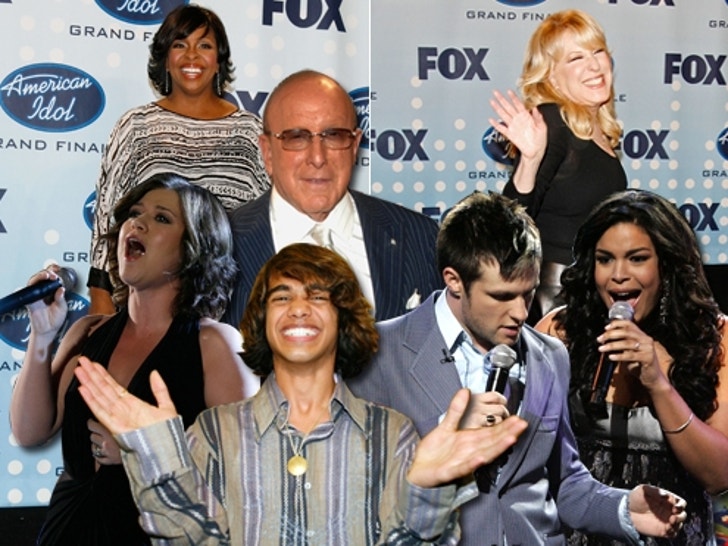 With performances by Gladys Knight, Smokey Robinson and BeBe and CeCe Winans, last night Jordin Sparks was crowned the latest "American Idol" on what seemed more like a "Solid Gold" rerun than the finale of the most watched show on television! Nothing says 2007 like ... Bette Midler?!
TMZ has the rundown on last night's eight-hour live broadcast:
The finale rambled on longer than a Paula Abdul interview! Something's broken on Paula -- and it ain't her nose!
The "Golden Idol Awards" -- Um ... No! Making fun of an infantile overweight woman dressed like Big Bird and two peculiarly challenged young men does nothing for "Idol's" industry cred ... who knew minstrel shows were making a primetime comeback? Why do producers want to add a crappy awards show to a crappy award show?
Gladys Knight -- She's gotten rid of the Pips -- and all facial expression! Thankfully, the only thing Botox didn't kill was her voice. Girlfriend needs an eyelash/weave wrangler.
Smokey Robinson -- When did he become "Whisperin' Smokey Robinson?" At least one wide-eyed Jurassic crooner knows what notes he can still hit.

Doug E. Fresh -- Thank you, "Idol," for transporting us all the way into ... 1985! *pah-chunk foomph-a-foomph*

Tony Bennett -- Nobody hit the money note last night better than Tony -- who's 80!

Sanjaya/Joe Perry -- Enough about Sanjy's hair. What the f**k was going on with Joe Perry's ratty bird's nest weave?! You Really Got Me!
Clive Davis -- Since he won't trash Clarkson in public, he'll just rave about Carrie Underwood (aka the un-Kelly) like she cured cancer. And can someone remind him Clay Aiken did NOT win "Idol" -- Ruben Studdard did! Poor Rube! While he pointed out everyone from Chris Daughtry to Jennifer Hudson (what no Carmen Rasmussen?!), Clive forgot to mention the Velvet Teddy Bear himself.
Kelly Clarkson -- "Idol's" prodigal daughter comes home. Love her or hate her (Clive!) she knows how to transform a poetry slam into an "Idol" performance. Metalicious! By the way, how much must it suck when your album sells 10 million copies (more than Saint Carrie), you win 2 Grammys and your songwriting ability is honored by ASCAP -- yet your label Prez still shelves your new album because it isn't "pop" enough?! Was Kat McPhee's non-selling album pop enough for ya, Clive?

Carrie Underwood -- Country Barbie could get a DUI and flash her hay and she'd still be "Idol's" Patron Saint. The twangy gal can do no wrong ... except when it comes to Beatles songs!

Melinda Doolittle/BeBe and CeCe Winans -- Hallelujah! Sometimes when you lose, you really win.
Green Day -- Through the magic of television, we were transported out of the Kodak Theater to the regular "Idol" stage and back -- in just under four minutes! How'd they do that?!

Bette Midler -- Where was Kermie?! Somebody knocked out the wind beneath her wings! Que paso?! The only thing worse than the not-so Divine Miss M's Vegas-bound performance was the rubber S&M bathmat she transmogrified into a skirt! Ya gotta have friends!
Beatles Songs -- Michael Jackson might want to reconsider the worth of the catalog; it was seriously devalued by last night's shrill salute, exemplified by Taylor Hicks' special needs rendition of "A Day in the Life."
Blake Lewis -- Was there ... we think.
Jordin Sparks -- She should sing next to Ruben more often -- she suddenly became a size 2! Oh, by the way, nice how they tossed in at the end that Jordin won. Goodnight everybody!