Kate's Lawyer: Jon & His Lawyer are Frauds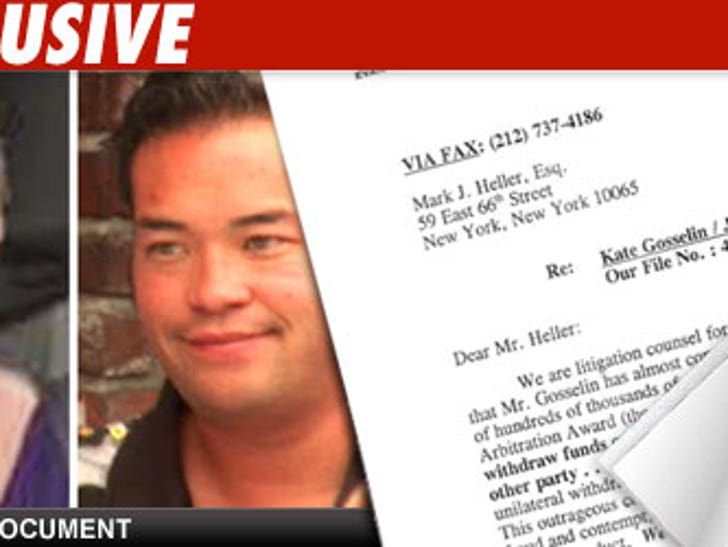 TMZ has obtained a letter Kate Gosselin's lawyer fired off to the lawyer for Jon -- and, to put it mildly, it's war.
Legal pit bull Marty Singer wrote the letter this past Friday. TMZ obtained a copy. In it, Singer expresses outrage that Jon secretly raided Jon and Kate's money market account "of hundreds of thousands of dollars," leaving only about $1,000. Singer says the withdrawal is not only "outrageous," it directly violates the Arbitration Award in the divorce which requires both parties to agree before any money is withdrawn.
Singer -- who says the withdrawal of funds is fraudulent and contemptible -- claims both Jon and his lawyer, Mark Heller, are hypocrites, after they went on Larry King's show and claimed family values (not money) was the important thing.
Singer says Heller has done this before, citing a New York Supreme Court decision which says Heller directed one of his clients in a divorce to "withdraw everything that's in the bank" so the money could be used to pay his fee.
And then there's this ... Singer blasts Heller, noting that the New York Supreme Court "addressed charges that you violated 'thirty-eight counts alleging multiple violations of the disciplinary rules,' and charges that you 'had engaged in a pattern of misconduct involving misrepresentations, deceit, abusive treatment of clients, fee gouging, neglect and willful failure to return unearned retainers to his clients' in matters which involved your 'mishandling of the matters of twelve separate clients.'" The letter goes on to claim Heller admitted to engaging in "professional misconduct involving dishonesty, fraud, deceit, or misrepresentation."
As we first reported, Kate's lawyers are going to court tomorrow, demanding that the monies be returned to the account and asking for a contempt citation.
We called Heller but he was not available for comment.