Burglar Bunch Nets Celebrity Treasure Trove
Burglar Bunch Nets
Celebrity Treasure Trove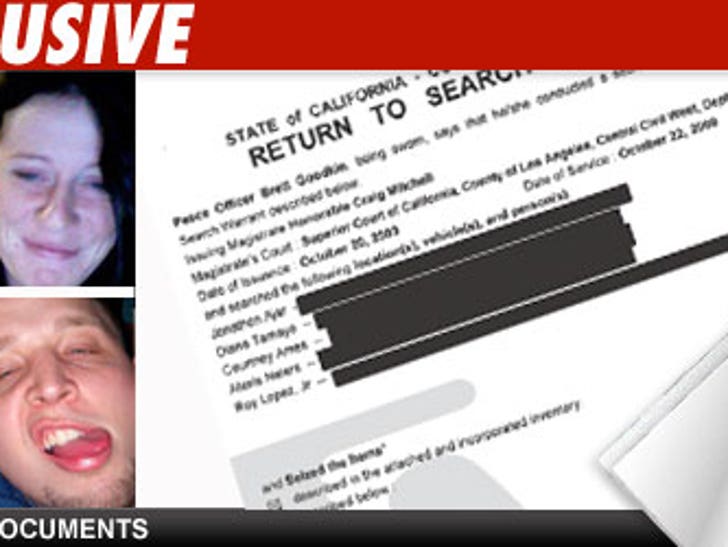 The Hollywood Hills Burglar Bunch possessed more gold, diamonds and drugs than King Midas ... this according to cops who raided the homes of the defendants. We just got hold of the return on the search warrant, and it's impressive.
Here's just a partial list of what cops found -- pearl-style necklace, several rings with yellow metal and white stones, a ring with white metal and green stones, a ring with yellow metal and red stones, a ring with yellow metal and green and white stones, a Marc Jacobs purse, a Louis Vuitton purse, 2 Chanel purses, 1 Hermes purse, a Steve Madden shopping bag, a Blackberry Edge cell phone and an LG cell phone, 4 pairs of BCBG and Marc Fisher heels, a pair of True Religion pants (which are connected to Rachel Bilson), 2 bottles of Paris Hilton perfume, 2 bottles of Chanel perfume, an Apple laptop, Gucci eyeglasses, Chanel eyeshadow, a Chanel makeup brush, Dior mascara, a Mexican passport, and a Washington State driver's license.
As TMZ first reported earlier today, cops also found a huge stash of drugs -- including cocaine, mushrooms and ecstasy.

The search warrant return also turned up a 3-page list found at Ajar's home -- with a description of "diamonds in bag." It lists 10 separate bags, totaling 42.94 carats. The list also references dozens of pieces of expensive jewelry including a Cartier watch, a Mont Blanc watch, dozens of diamond, gold and silver rings, a diamond bracelet, and several necklaces.