Casey Johnson, Tila Tequila Search Warrants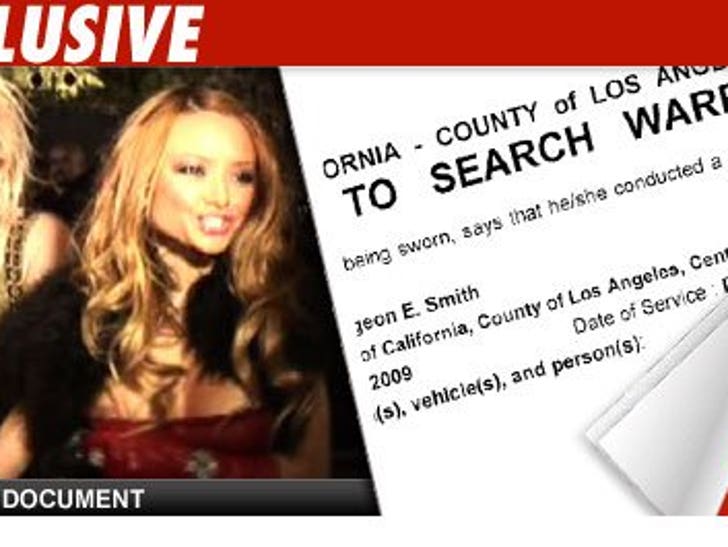 The LAPD obtained search warrants against Casey Johnson and Tila Tequila, TMZ has learned ... but not in connection with the death investigation.
The warrants were executed on December 11, three weeks before Johnson was found dead.
The warrants were issued in the wake of Johnson's arrest for grand theft -- she allegedly stole clothing and jewelry from ex-GF Jasmine Lennard.
Cops searched both the home of Tequila and Johnson, looking for various items, including "a Louis Vuitton gold envelope clutch, 'Trashy Lingerie' black and cream, Bright pink dress, sparkly gold 'Kitson' dress, modeling photographs and portfolio books, brown antique mink fur, single crystal earring, ring with pink stone and two clear stones on each side, and a white Herve Leger dress."
According to the police affidavit, cops went to Johnson's house and saw a pink purse that matched the descriptions of one of the stolen items. Johnson agreed to return that item but would not let cops in the house. So they got warrants.
Cops found a photo and a ring at Tila's house, and 2 blouses and 2 dresses at Casey's.
And there's this ... the day before the warrants were executed, Jasmine Lennard called cops and said she saw Casey wearing her gold dress on a red carpet. The cop Googled Casey's name and saw numerous photos of Casey wearing a gold dress -- which appeared too big for her -- with Tila next to her on the red carpet.