Arenas Pleads Guilty to Felony Gun Charge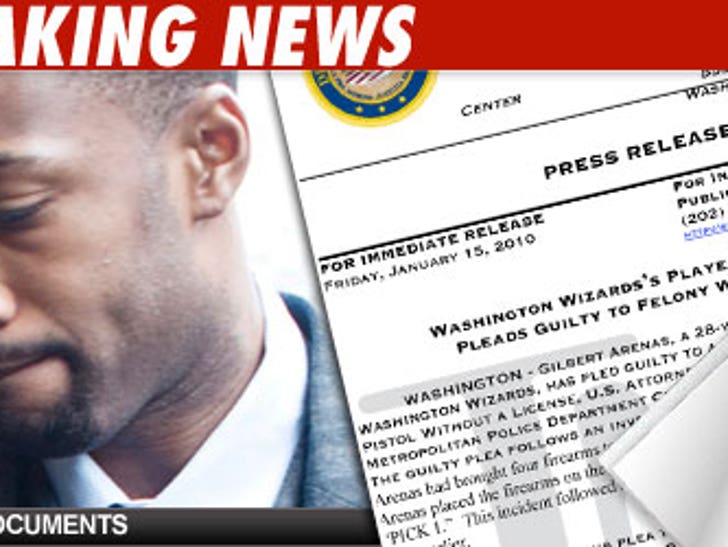 Gilbert Arenas just plead guilty to one felony count of carrying a pistol without a license.
Arenas -- who was in court today in Washington, D.C. in connection with the locker room standoff he had with teammate Javaris Crittenton in late December-- has to turn in his passport and is no longer allowed to possess any firearms.
According to the U.S. Attorney, it all started during a chartered flight on December 19, when Arenas and a fellow teammate became "involved in a verbal exchange following a card game." During the spat, Arenas -- who claims it was just a joke -- and the teammate made "mutual threats to shoot one another."

The U.S. Attorney says two days later, Arenas -- who had brought four firearms to the Verizon Center -- "placed the firearms on the chair of a teammate with a note stating, reportedly in jest, "PICK 1.'" When the teammate arrived, Arenas stated, "You said you were going to shoot me, so I thought you would like some firepower. Pick One."
The U.S. Attorney says, "after this exchange, Arenas admitted to team management that he brought the firearms from his home in Virginia ... he also told team management that the teammate also had a firearm."
The investigation of the reported possession of a firearm by the teammate is ongoing, according to the U.S. Attorney ... who never mentions Javaris Crittenton's name.
Ken Wainstein, a lawyer for Gilbert Arenas, said afterward that Gilbert "accepted full responsibility for his actions, acknowledged that those actions were wrong and against the law, and has apologized to all who have been affected by his conduct."
A rep for the Wizards released a statement that says, "Gilbert Arenas has been a cornerstone of the Washington Wizards for six years. We are deeply saddened and disappointed in his actions that have led to the events of this afternoon. Gilbert used extremely poor judgment and is ultimately responsible for his own actions."
Arenas is due back in court on March 26.
As we first reported, Wizards GM Ernie Grunfeld texted Arenas shortly after the incident that he was in violation of his contract -- prohibiting players from bringing firearms into the stadium -- and that the team could void his contract as a result. This plea isn't going to help Arenas' case.