Andy Dick Arrested for Sexual Abuse
Andy Dick
Arrested for Sexual Abuse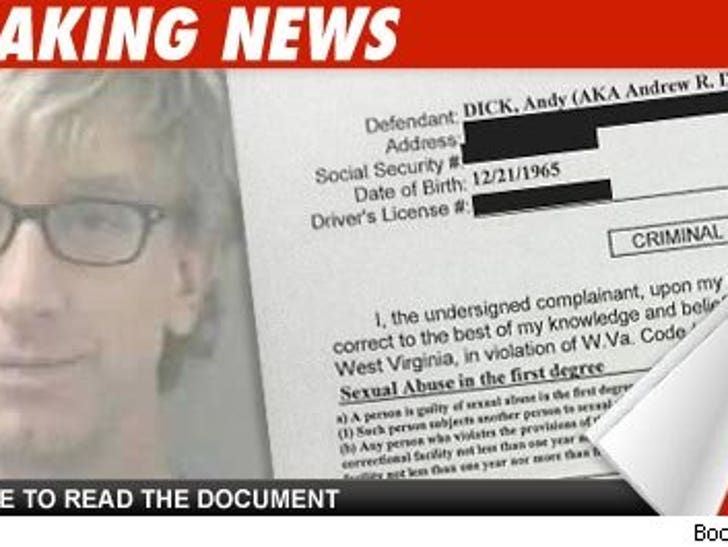 Andy Dick was arrested in West Virginia this morning on two counts felony counts of sexual abuse in the first degree.
Dick was taken to the Western Regional Jail in Barboursville, where he was eventually released this afternoon. His bail was set at $60,000 (30k for each charge). We're told the owner of the Funny Bone, where Dick performed last night, posted the bail.
Dick faces 1-5 years in prison if convicted.
According to the criminal complaint, Dick was talking to a guy when he "unexpectedly and without invitation grabbed the victim's crotch, repeatedly groping then kissing him."
Also in the complaint, a security guard at the bar says that Andy Dick "grabbed his crotch and began laughing" when the guard tried to give him an armband.
A press release from the Huntington Police Department says: "Based upon statements of two victims and independent witness accounts alleging that he had engaged in unwanted and uninvited groping of the two victims' genital areas, Andrew R. Dick (AKA Andy Dick) of South Pasadena, Calif., was arrested and charged with two counts of Sex Abuse in the First Degree."
Dick was in town performing at the Funny Bone in Huntington, WV. The manager, Tom Schaefer, told us Dick will go on Saturday and Sunday night as planned. He also tells us he was with Dick at Rum Runners and didn't witness any of the alleged incidents.
Dick is currently on probation over an incident at a chicken joint, where he was arrested for sexual assault. He copped a plea to battery in 2008.
UPDATE: The photos below were taken of Andy Dick at Rum Runners, where he was later arrested.