'Idol' Contestants -- No Shtupping the Judges
'Idol' Contestants
No Shtupping the Judges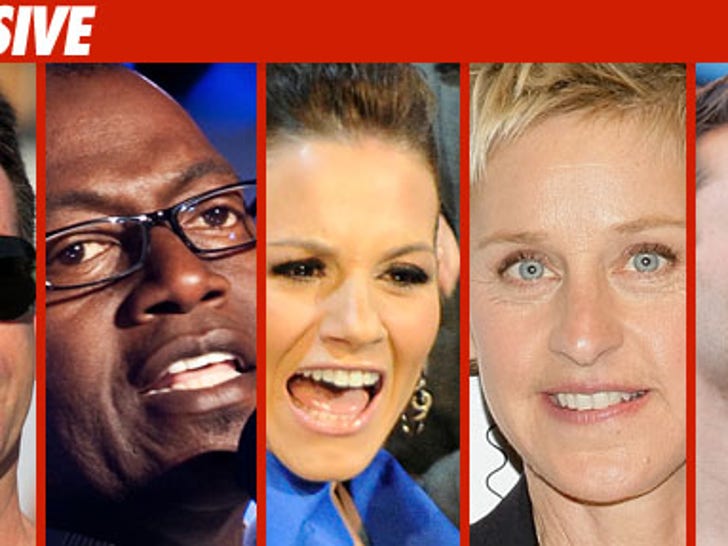 TMZ obtained a copy of the contract every "American Idol" contestant must sign before going on the show -- and one thing is perfectly clear .... Ryan, Randy, Ellen, Kara, Simon, Theodore and Alvin are not available for their pleasure.
According to the legal doc -- a copy of which was filed in court because a contestant was a minor -- the contestants promise the following: "Neither I nor any members of my family or my friends will enter into any personal, social, business, and or financial relationships with any of the judges, host(s), guest stars ..." The prohibition runs for the duration of the show and 6 months thereafter.
But the way we see it ... there's no way the contract can bind family or friends. Nonetheless, it's a good threat, because according to the doc, a contestant will be disqualified for violating the rule and forfeit any prize money.
And in the money department ... here's the way it breaks down.
The winner gets $175,000 when he/she starts recording ... and another $175,000 when that person "delivers" the first album. If the winner gets a second album, he/she gets anywhere between $275,000 and $550,000 depending on the success of the album. As for a third album -- anywhere between $325,000 and 650,000. As for a forth -- anywhere between $375,000 - $750,000. As for a fifth -- $450,000 - $900,000. And a six album gets the winner between $500,000 and a cool $1 mil.
The second place finisher gets $150,000 when he/she starts recording their first album ... and another $150,000 upon delivery. The second album gets the runner-up between $225,000 and $450,000 and so on.
As for 3rd through 12th place -- if the label signs them -- they each get $100,000 when he/she begins recording album #1 and another $100,000 upon delivery ... though most of them end up playing hot air balloon festivals.
And get this ... according to the contract, "A.I." isn't required to pay incidental expenses during the show. Contestants even have to pay for their own transportation when they're not traveling to and from the show.